Whenever a country faces a public crisis, this turns a spotlight on its leaders, inviting reevaluation of their authority and governance capabilities. In a country like China, where information and conversation are curtailed by a system of media and internet controls, this process of reevaluation can be much more difficult to ascertain. But closer scrutiny of the official news reports on the actions of the Chinese Communist Party (CCP) can sometimes help us identify subtle yet important shifts.
How has the discourse on Xi Jinping changed in the midst of the now global coronavirus epidemic?
Since Xi urged control of the coronavirus outbreak for the first time on January 20, China has been in full "war-waging" mode on the epidemic. But a number of signs in the midst of this "war" have puzzled China watchers. One puzzle initially was Xi's absence from public visits and inspections on the front lines of the epidemic response through late January. The on-the-ground work fell to Premier Li Keqiang, who heads the leading group on disease prevention and control. And yet the CCP's mouthpiece, the People's Daily, still curiously prioritized the coverage of Xi Jinping's outbreak-unrelated appearances over the coronavirus epidemic.
Prominent coverage of Xi Jinping, however, does not necessarily provide us with the full picture, and one discourse phenomenon that deserves greater attention is the disappearance of two key terms that have signified Xi's paramount position. These are: "Xi Jinping Thought of Socialism With Chinese Characteristics for a New Era" (习近平中国特色社会主义思想); and "442" (四四二), an abbreviated term that stands in for the so-called "Four Consciousnesses," "Four Confidences" and "Two Protections."
In the texts that have emerged from the past four meetings of the Standing Committee of the CCP Politburo, the Communist Party's highest decision-making body, we have not seen these phrases. What does that mean? First, let's back up.
At the 19th National Congress, "Xi Jinping Thought of Socialism With Chinese Characteristics for a New Era" was officially enshrined as a party-state doctrine, joining predecessors like Mao Zedong Thought, Deng Xiaoping Theory, Jiang Zemin's "Three Represents" and Hu Jintao's "Scientific Outlook on Development." As CMP co-director Qian Gang has explained: "The introduction of a 'Xi Jinping Thought' — as opposed to a 'theory' (in the case of Deng Xiaoping) or 'strategy,' or 'concept' – marked an unexpected intensity of elevation, arguably putting Xi on parity with Mao Zedong."
Correspondingly, as Qian has noted, a series of expressions signaling loyalty to Xi Jinping, or touting his supposed achievements, appeared in party media at the national, provincial and city levels in late 2017 through to early 2018, including "great leader" (伟大领袖), "wise leader" (英明领袖), "loved by the entire Party, loved and respected by the people and fully worthy and deserving [of core leadership status]" (全党拥护, 人民爱戴, 当之无愧).
Another signifier of Xi's growing ideological clout during this period has been the expression "442." It requires party-state officials to pay loyalty to Xi as the party-state leader and the Central Committee of the CCP, and to demonstrate trust in Chinese approaches to social development. As CMP's 2018 discourse report explained, the "442" formula refers to:
"Four Consciousnesses" = consciousness of the 1) need to maintain political integrity, 2) think in big-picture terms, 3) uphold the leadership core, and 4) keep in alignment
"Four Confidences" = 1) confidence in the path, 2) confidence in the theories [of the Party], 3) confidence in the system [of socialism with Chinese characteristics, 4) confidence in [China's unique] civilization
"Two Protections" = 1) protecting the core status of General Secretary Xi Jinping, protecting the central, unified leadership of the Central Committee of the CCP
This catchphrase officially became a fixed formula in late 2018. On December 27, 2018, the People's Daily mentioned "442" in a news report on its front page, covering the Politburo's "Democratic Life Meeting," which emphasized the importance of following the CCP's leadership and reinforcing the self-discipline of party members.
According to CMP's "heat index" for measuring the volume of party-state concepts in the People's Daily, both "442" and "Xi's Thought" were in the "red hot" category in 2019, representing the second-strongest group of terms, coming only after "Belt and Road Initiative" and "reform and opening up."
Unexplained Absences
A close look at reports from the most recent four meetings of the Standing Committee shows "Xi Jinping Thought" absent in all instances. Meanwhile, "442" has gone missing in the most recent two meetings. How significant is this? One way to see is to look back at the terms historically to determine just how exceptional these unexplained absences are.
Looking at the full year of 2019, we note other disappearances too, but these rarely happen consecutively. In the 13 Politburo and Standing Committee meetings in 2019 that are publicly covered, "442" has been absent just three times, in May, August and November. There were also two meetings in 2019 at which there was mention only of the "Two Protections" rather than the full "442" formula – these taking place in February and July. The only time we find "Xi Jinping's Thought" missing at all in 2019 is during the June meeting, which discussed guidelines for the reform of CCP organs and agricultural industry development.
This suggests that use of the two terms in official documents has been quite consistent over the past year. If the scope is broadened to look at not just the People's Daily but hundreds of other Chinese newspapers, the drop off more recently is statistically noticeable.
A search in the People's Daily and more than 400 other Chinese newspapers in the Qianfang database shows that mention of the two terms plummeted in February 2020. Compared to January, there's a drop of more than half in the People's Daily, and an even sharper drop within newspapers more broadly.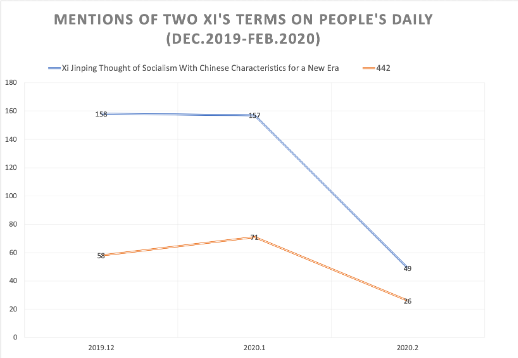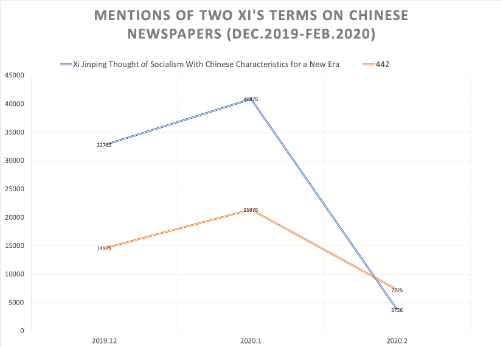 But how significant is this disappearance? Specifically, does it indicate any diminishing of Xi Jinping's prestige? In short, not necessarily. The change is certainly significant. But it could be more indicative of a short-term shift in priorities than of any significant diminishing of Xi's status.
Looking at the contexts in which these two terms appear in news reports, I find use of the terms is closely related to the focus of meetings. Amid soaring fears of mass contagion, the meeting on January 25 focused on the urgent task of disease prevention and control, while giving prominence to Xi Jinping's leadership and devotion. At the following meetings on February 3, 12 and 25, top agendas started to include economic recovery, social order restoration and opinion-channeling.
Mentions of "Xi's thought" and "443" in news reports of four CCP Standing Committee Meetings on Epidemic Control in 2020 in the People's Daily (January 1-February 29)
| | | | | | |
| --- | --- | --- | --- | --- | --- |
| Headline of news on People's Daily | Type of meeting | Mentions of 'Xi's Thought' (Yes/no) | Mentions of '442' (Yes/no) | Meeting date | News published date |
| 研究新型冠状病毒感染的肺炎疫情防控工作 | Standing Committee Meeting | No | Yes | January 25 | January 26 |
| 研究加强新型冠状病毒感染的肺炎疫情防控工作 | Standing Committee Meeting | No | Yes | February 3 | February 4 |
| 分析新冠肺炎疫情形势研究加强防控工作 | Standing Committee Meeting | No | No | February 12 | February 13 |
| 分析新冠肺炎疫情形势研究近期防控重点工作 | Standing Committee Meeting | No | No | February 25 | February 26 |
Noticeably, both meetings on January 25 and February 3 highlighted the leading role of the party and the Li Keqiang-led group, and demanded officials' absolute obedience to party's mandates, and this necessitated frequent mention of "442". Both meetings, for example, emphasized that curbing the spread of epidemic is the top priority, and should be "led, coordinated and managed by the Party's Central Committee" (党中央统一指挥、统一协调、统一调度). At the February 3 meeting, Xi sounded the alarm for punishing officials who failed to obey the Party's orders and to fulfill their roles, prior to the reshuffle of top officials in Wuhan and Hubei.
By contrast, the meetings on February 13 and 25 focused less on political loyalty and more on economic growth and social stability, particularly on directives for building a "moderately prosperous society" and delivering on the promises of the 13th 5-year plan (the blueprint for development from 2016 to 2020). Specifically, the two meetings focussed on growth-stimulating policies, including restoring industrial production power and spurring domestic demand. Unlike the sole emphasis on the obedience to the Party's directives, the recent two meetings in February also stressed quality of work, with language such as: "delivering solid work" (抓实), "focusing on details" (抓细), "ensuring plans to be fully implemented and appropriated to the local context" (抓落地) and "having the courage to shoulder the responsibility, the wisdom to scientifically prevent and control [the epidemic], the strategy to make overall plans and take thorough consideration, and the ability to coordinate [personnel] and implement [plans]" (既有责任担当之勇、又有科学防控之智,既有统筹兼顾之谋、又有组织实施之能).
Looking into all mentions in the People's Daily, it seems that "Xi's thought," though of course serving to elevate the status and legacy of Xi himself, also plays a role as a general principle in the context of theorizing on socialism and drafting longer-term policy blueprints. "442," meanwhile, is used as a default binding rule governing the daily work of officials. This key distinction might explain why "Xi's thought" has been absent from all Standing Committee meetings on epidemic control so far. As China deals with the urgent, daily business of addressing the coronavirus epidemic, "442" remains relevant as a means of signaling unified action under the leadership of the party – while "Xi's thought" may be seen as too abstract and untimely in light of practical tasks at hand.
Now, in other words, is not the time to draw attention to bureaucratic jargon and to questions of personal legacy in high-level Standing Committee statements on matters of urgent response.
If we look closely at the mentions of these two phrases in the People's Daily in February, we can see how they appear in these differing contexts – the one theorizing about China's political system, the other about concrete work plans and guidelines. Out of the 49 mentions of "Xi's thought" in February, 36 appear in theoretical pieces on how to integrate "Xi's thought" into the political system, social governance, economic development, cultural rejuvenation and environmental protection to improve "socialism with Chinese characteristics." Six are part of the annual working plans as a guiding thought. Only seven are related to epidemic control, including five that argue the advantages of the Chinese socialist system and the CCP's leading role, and two articulate the importance of valuing scientific knowledge in public health.
By comparison, among the 26 mentions of "442" in February, 14 are related to epidemic control. Five appear in provincial leaders' speeches about 2020 annual plans. Two specifically talk about the Party-led campaign themed "staying true to our founding mission" (不忘初心,牢记使命). The other five are part of the daily work guidelines in foreign affairs, CCP's discipline inspection and supervision, and state media's reporting.
This quick look at the contexts of "Xi's thought" and "442" suggests that though they have often in the past been mentioned at the same time, the former appears most frequently in more theoretical statements, while "442" appears in the context of practical work. Given this fact, it might simply make sense to find a drop off in the use of "Xi's thought" as much state media coverage generally prioritizes the epidemic response over theorizing on the political system, cultural rejuvenation and so on. It is rare to see such a sudden drop in key CCP phrases, as shown in the graphs above. But it is also true that the coronavirus epidemic has been exceptional as a crisis, and has been a shock to the party's discourse (recalling Qian Gang's point that propaganda themes for the start of the year had already been determined).
The disappearance of "Xi's thought" and "442" from the texts of the February Standing Committee meetings is certainly a trend to watch – and we can note, too, that the most recent Standing Committee meeting, held yesterday, does not mention either term. But these absences could be a short-term phenomenon. It may be that rather than indicate Xi's loss of power or prestige in an absolute sense, they tell us that within the black-box of authoritarian politics, official discourse can still be highly flexible to the changing social climate while the core values remain intact.
Given the broad shift in public opinion and public concerns in the midst of the crisis, it would be unseemly to boast too loudly about Xi Jinping's theoretical contributions or focus overly on political indoctrination and such empty talk. It is time, at least for now, for Xi Jinping to come back down to earth.