The China Media Project is pleased to announce the publication of Watchwords: Reading China Through Its Party Vocabulary, a new commentary series unpacking the most important political watchwords to watch in present-day China and explaining how they are critical to any understanding of China's political past, present and future. The series is a must-read for anyone interested in the upcoming 18th National Congress of the Chinese Communist Party and what it means for the country's future. We will begin posting the series on September 10, 2012, and will maintain an archive of links below. [For Chinese versions of the articles in the series, stay tuned to the Chinese online edition of the New York Times.]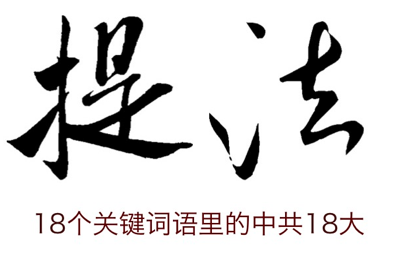 MORE ABOUT THE SERIES:
Soon the curtain will open on the 18th National Congress of the Chinese Communist Party, a crucial meeting of the country's top leaders that will set the tone for the next decade in China. At this year's meeting, President Hu Jintao is expected to hand over the reins to Xi Jinping and a new generation of leaders.
But in what direction will these new leaders take the country?
China's current political situation has been the subject of fevered speculation in recent months. Much attention has focused on the leaders themselves, on their personalities and legacies, and on the messy internal world of power broking. But the political discourse of China's ruling Chinese Communist Party offers another way of gazing into this murky environment, making educated guesses about the country's present and future.
Qian Gang, director of the China Media Project at the University of Hong Kong's Journalism and Media Studies Center, is a veteran Chinese journalist and an expert on the political discourse of the Chinese Communist Party as it is amplified through China's media.
Stay tuned to this space for the latest articles in the Watchwords series.
____________________
INTRODUCTION
Watchwords: the Life of the Party (中文/纽约时报中文网)
CHAPTERS
1. Reading Deep Red: The Four Basic Principles and Mao Zedong Thought (中文/纽约时报中文网)
2. Preserving Stability: Will the Party Continue to Arm Itself Against Social Unrest? (中文/纽约时报中文网)
3. Political Reform: Are Its Chances Improving? (中文/纽约时报中文网){
4. Total Denial and the Will to Forget: The Cultural Revolution(中文/纽约时报中文网)
5. Xi Jinping on the Origins of Power: Will a New Watchword Be Born? (中文/纽约时报中文网)
6. The Power of Separation: Can the Party Divide and Monitor Itself? (中文/纽约时报中文网)
7. Democracy with the Doors Shut: Understanding Intraparty Democracy (中文/纽约时报中文网)
8. Society Lost: The Role of Civil Society Development in China's Politics (中文/纽约时报中文网)
9. Pride and Positioning: How Top Leaders Push Their Policies, and Construct Their Legacies (中文/纽约时报中文网)
10. The Mixed Bag of Socialism: What Exactly are Chinese Characteristics? (中文/纽约时报中文网)
CONCLUSION
The 18th National Congress Report Card: How Can We Score China's Future? (中文/纽约时报中文网)