In the latest example of what China Youth Daily recently called an emerging "comment posting culture" in China, Chinese newspapers nationwide are tackling a public interest story about poor parents of first-year Tsinghua University students in Beijing who slept on the school athletic field or in doorways because they either couldn't find or couldn't afford accommodation in the city. The story, which was first posted anonymously on Shuimu Tsinghua, Tsinghua's bulletin-board site (BBS), on August 19 (and included photographs of sleeping parents), has set off a debate in newspapers and in cyberspace over the shortcomings of China's education system, how to foster self-reliance in students, and whether and how university officials callously mismanaged the situation. [PHOTO: Parents of first-year Tsinghua students sleep in a doorway on campus/Photo posted anonymously on the university's BBS site]. [pdf_beijing-youth-daily-on-tsinghua-university-story.pdf].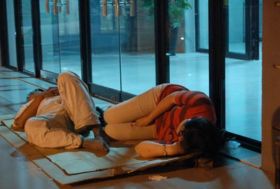 According to a report in Beijing Youth Daily, more than 3,000 new undergraduate students arrived as Tsinghua university for the beginning of the term on August 17. They were accompanied by an estimated seven to eight thousand parents and relatives who wished to send them off. School officials said university accommodation and beds at nearby hotels were insufficient to meet demand.
Chinese media quoted numerous experts as saying parents should foster more independence in their children by not accompanying them to university. "Independence is an important prerequisite for a successful college student. Not doting your child is the best way to ensure their healthy development", wrote one columnist for Youth Daily (Shanghai), saying there was no need for parents to accompany first-year students.
But others explored deeper policy issues. A columnist writing on page A4 of Beijing Youth Daily wrote: "You can say that this [situation] is not to the shame of the parents but rather a dilemma for our society. According to statistics, average university tuition for the whole country has risen from 800 yuan in 1995 to 5,000 yuan in 2004. Moreover, for those students entering new campuses, fees are around 6,000 yuan. Room and board has gone up from about 270 yuan in 1995 to 1,000-1,200 yuan in 2004. Add to this the cost of food and clothing, etcetera, and each college student requires an average of around 10,000 yuan a year, around 40,000 yuan for four years at university. Lately, the so-called 'commercialization of education' (教育产业化) has been as hot as fire and tea. Its marks can be seen at every level, from nurseries to universities . . . So, we need to pay great attention to this warning sign and reform the fee system of education, adjusting the system of income distribution for the whole society — only then can we solve this situation once and for all".
Cases like the Tsinghua story, which arise from Web-generated stories that spin out into mainstream news reports and editorials, have been on the increase in recent months, and suggest the emergence of pockets of genuine public opinion tolerated by authorities on certain issues of social interest or concern.
[Posted by David Bandurski, August 22, 2006, 2:45pm]