By David Bandurski — Are China's leaders becoming more responsive to the concerns and demands of the public? Is China, thanks to the Internet, moving toward a more "deliberative" and participatory political culture? Rebecca MacKinnon's forthcoming work on what she is calling "cybertarianism" will no doubt address these and other related questions, and her preliminary comments are well worth a read.
We are still a long way from understanding the real effects of the Internet on public discourse in China. But first and foremost, we must not assume the Internet has been the only deliberative mechanism working in China's controlled media environment.
China has a long tradition of journalists working within the system, controls notwithstanding, to expose social injustices and other wrongs. And there are signs that hard-nosed journalism, investigative journalism carried out under the banner of "supervision by public opinion" — or Chinese watchdog journalism — has been under threat on several fronts during the past few years.
Can blogs and online forums pick up the slack?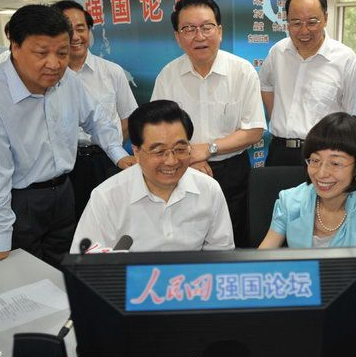 [ABOVE: Chinese President Hu Jintao chats online with Web users for the first time on June 20, 2008, as propaganda chief Liu Yunshan (far left) looks on with furrowed brow.]
Another critical question is to what degree some of the apparent signs of greater "deliberation" are in fact more aggressive, grandstanding attempts by the leadership to massage public opinion — while traditional controls, we must remember, are perhaps stronger than ever.
How excited should we be about Hu Jintao's online conversation with "web friends"? [Chinese transcript of conversation here].
This is where all of our chatter about what we have called "Control 2.0" intersects with the discussion of "cybertarianism," "deliberative authoritarianism," whatever you wish to call it.
We have only to look at the party's own discourse on news and propaganda policy to understand that the CCP is interested in harnessing the power of the Internet, not unleashing it.
A few interesting articles have emerged from Chongqing this month about how the CCP can become more effective at "channeling public opinion on the Internet."
Chongqing's deputy propaganda chief, Zhou Bo (周波), published an article in the official Chongqing Daily earlier this month called "Leaders and Cadres Must Continually Strengthen Internet Public Opinion Channeling Capacity." The piece argued that the Internet has transformed "the structure of public opinion channeling." Leaders, said Zhou, must appreciate the new and growing role of the Internet and "move away from misunderstandings about the Web."
Typical Hu Jintao "use the Web" kind of stuff, right? It doesn't really sound that bad. Zhou seems to be saying that party leaders should not fear the Internet and should not react to it irrationally. He is advocating a change of attitude, and that's probably a good thing if you're looking for reasons to feel encouraged.
But while Zhou's article talks about the Internet as "an important agent for promoting the building of democracy in our country," "an aggregation platform through which people can vent their emotions and voice their demands" and "a new point of economic growth" (a profit-making industry in its own right, in other words), he also views the Internet in dangerous and aggressive terms as "a key strategic position as we battle our enemies for public opinion."
"We" refers here to the leadership of the CCP, of course. So while the Internet is core to China's continued development, and is itself an important part of the economy, it must be conquered and held against — who else? — those nasty "hostile forces" that would seek to divide China against itself.
This is fundamentally about preserving the leadership of the party, not about opening it up to questioning.
The argument is a strange compound of old impulses and new thinking. But as I've written elsewhere, it basically boils down to the fact that the CCP has finally embraced the Internet — and it is not letting go.
Lest we forget that control is the overarching priority, Zhou Bo's piece emphasizes that the Internet is now the focus of propaganda work, which seeks to ensure "correct guidance of public opinion."
Another interesting and related story to come out of Chongqing earlier this month was news that one of the municipality's districts, Nanchuan (南川), has issued a policy requiring district-level leaders (or specially designated representatives in case important business takes leaders away) to participate in an online interview program on the last Monday of each month.
The district document, "Provisional Proposal for Nanchuan Online 'Internet Discussion' Work", mandates the creation of this monthly program at the local government news website, Nanchuan Online (南川在线). Through the program, the document says, leaders will "listen to the voices of Web friends, all working together for the betterment of Nanchuan," and they will field questions about problems and issues of concern to the masses.
That sounds like an entertaining exercise, certainly. And perhaps residents can feel they're getting all chummy with district planning officials, for example. But what happens when someone asks a probing question like, "Could you tell me, Sir, why land was requisitioned in our district without providing residents with adequate compensation?"
Have a peek at the link directly above and you'll see how real my hypothetical question probably is. I simply made an educated guess as to what kind of grievances people in the district might have. I plugged "Nanchuan" and "requisition" into a search engine and presto — alleged protests and police beatings over property seizures. Was I lucky? Or are such problems endemic? Do local officials really need "web friends" to point these problems out?
Experience shows that local officials are far more adept at looking out for themselves than they are at monitoring their own behavior. So what level of responsiveness can local people expect from the gracious party leaders of Nanchuan?
Nevertheless, the "Nanchuan Model" has begun to receive some attention outside Nanchuan as a bold new idea to be applied to the work of "enhancing public opinion channeling."
Writing at Chongqing News Net on August 4, Liang Jiangping (梁江平) said that the "Nanchuan Model" offered a good example of how the drive to "enhance public opinion channeling" can be furthered by seeking "systematic and regularized" mechanisms.
"I believe the 'Nanchuan Model' has definite merit as a example, and it deserves emulation elsewhere," he wrote.
The piece was re-posted on the Website of Shanghai's Xinmin Evening News, so perhaps the idea will begin to take root.
Disgruntled citizens, start working on those lists of questions.
[Posted by David Bandurski, August 13, 2009, 2:00pm HK]