Chinese Twitter users reported earlier today that large-scale anti-Japanese protests had broken out in Chengdu, the capital of China's western Sichuan province, and in Xi'an, the capital of Shaanxi province. Pictures shared through online forums in China and aggregated at Flickr.com have by been actively re-shared by Twitter user @HenryHu89 and others. The pictures suggest the protests involved tens of thousands of participants in both cities. Pictures also show young protesters waving Chinese flags and red banners, with such slogans as, "We will defend the Diaoyu Islands to the death!" and "Loving My China, Boycotting Japanese Products."
At 4:45pm this afternoon, Xinhua News Agency came out with its first report in English.
BEIJING, Oct. 16 (Xinhua) — Chinese protesters vented anger against Japan Saturday when they took to the streets to assert China's claim to sovereignty over the Diaoyu Islands.

More than 2,000 people began to gather in downtown Chengdu, capital of the southwestern Sichuan Province, at around 2 p.m., unfurling banners and shouting "Defend the Diaoyu Islands," "Fight Japan" and other slogans.

More people joined the protest and the procession marched through some of the city's main streets, with some protestors distributing Chinese national flags.

In Xi'an, capital of northwest China's Shaanxi Province, thousands of college students marched, holding flags, banners and shouting slogans such as "Diaoyudao is China's" and "Boycott Japanese goods."

The protestors sang the Chinese national anthem while marching peacefully. READ MORE
A large number of photos can be viewed at Shichuan New Media's (石川新媒体) Flickr.com page.
We include several of the photographs below: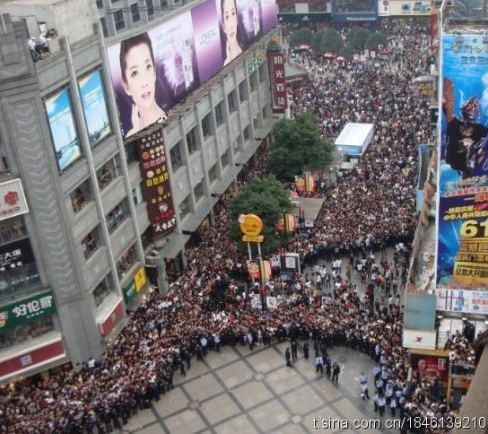 CAPTION: Chengdu police have now formally begun clearing out the square. According to the handling of Christmas celebrations in the past, they will seek to control the human traffic from the center at Sun-Yatsen Square to the west. Chengdu police have to carry out these actions during Christmas every year, so they have plenty of experience. 成都警方正式开始清场。根据以往圣诞狂欢的清场经验,将以中山广场为中心向四方 进行人流控制,成都警方每年圣诞都要进行此项活动,经验丰富.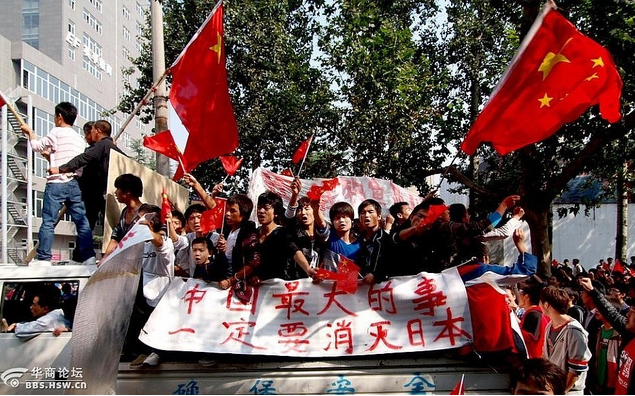 CAPTION:Mechanized mobilization of protesters in Xi'an, has Operation 2010 begun? 西安出动了机械化部队,使命2010开始了?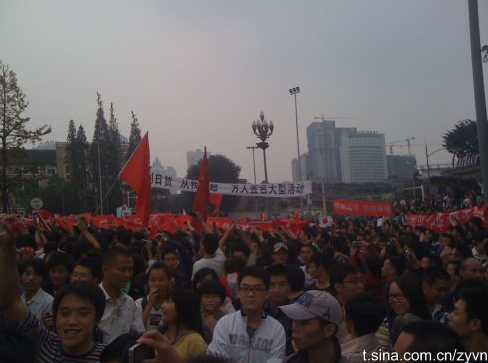 CAPTION: They've proceeded to Tianfu Square, are there enough Chengdu police? Are they not in the middle of military exercises now — they should lend their support. 转移到天府广场了,成都警察够不够?不是现在正在军事演习嘛,支援下.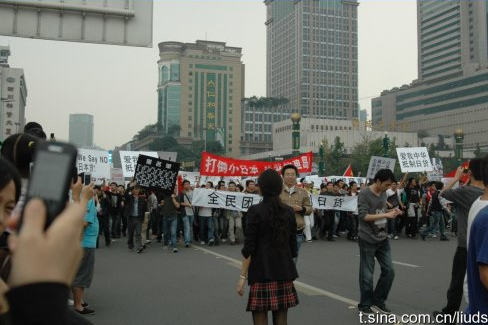 CAPTION: 成都的队伍运动到毛大爷打车的地方了,真的警察不管了?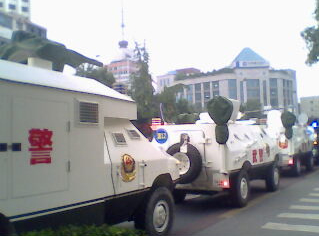 CAPTION: The Chengdu People's Riot Police for the people. 成都人民武警为人民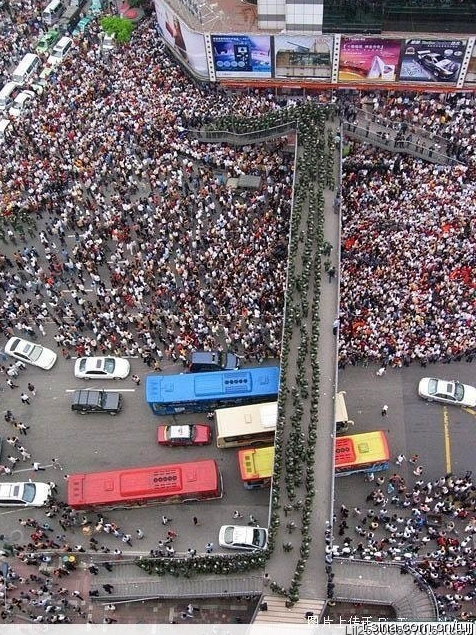 CAPTION: [Clearing out of the square to being immediately]: Masses of Chengdu riot police are now ordering people to leave through Hongxing Road. Personnel carriers, anti-riot trucks, armored trucks, all in a line.【清场马上开始】成都大量武警正呼啸着从红星路而去。运兵车、防暴车、装甲车, 一串串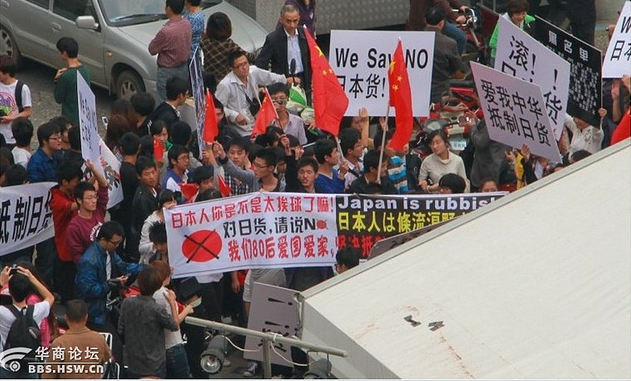 CAPTION: High-resolution photos from Xi'an. [Banners read: "Say NO to Japanese products!", "Japan is Rubbish" etc. 西安高清大图.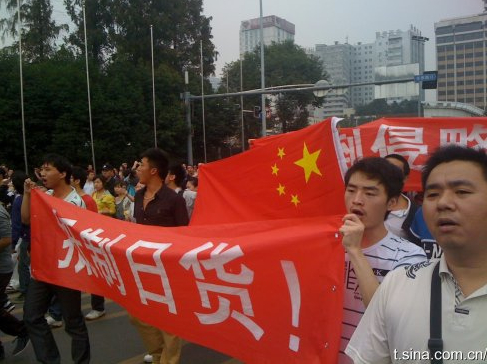 CAPTION: Every time anti-Japanese protests break out in Chengdu the Iyo Yokado [supermarket gets attacked]. Once Iyo opens up its doors again the protesters are happily back there buying things again. [Posters in photo read: "Boycott Japanese Products!"] 成都每有反日散步,伊藤洋华堂就会遭殃。等伊藤开门,散步者又兴高采烈地去购物 了