By Qian Gang — For more than a month now, rumors have flown back and forth about the problems facing Caijing magazine and its editor-in-chief, Hu Shuli (胡舒立), a former CMP fellow. Hu formally announced her resignation earlier this week. She will take up a position as head of the School of Communication and Design at Guangzhou's Sun Yat-Sen University, and also work on her options for the launching of a new publication.
Caijing has long stood out as one of China's finest professional publications, and troubles there have drawn attention from many quarters.
As could perhaps be expected, media outside China have leapt directly to speculation about the political factors behind Caijing's troubles. Some have positioned this as yet another story about a media crackdown in China.
But things are not so simple.
Anyone who has observed the ups and downs of Chinese media over the past decade will recognize that Caijing's troubles are very different in nature from explicit official moves in the past against such publications as Southern Weekend, Southern Metropolis Daily, and Freezing Point.
Based on what we know thus far, the Caijing affair arose primarily out of a row over ownership and interests between the editorial team led by Hu Shuli and the magazine's bosses at the HK-listed SEEC Media, led by Wang Boming.
Beyond that, we are far from knowing the full story behind the upheaval at Caijing. But we can safely suppose – this is China, after all – that the story is a complicated knot of factors. It is about politics, yes. But it is also about profit, about dollars and cents. And further, it is about varying visions of how media reform in China should proceed.
For many Chinese journalists, this turn in Caijing's saga is cause for great emotion and agitation.
One observer wrote of the danger that the professional ideal and spirit in the media might "vanish into thin air." China.com.cn, a website operated by the State Council Information Office, ran a special feature page about the story and tagged on a major headline that read: "Caijing is already without Hu Shuli."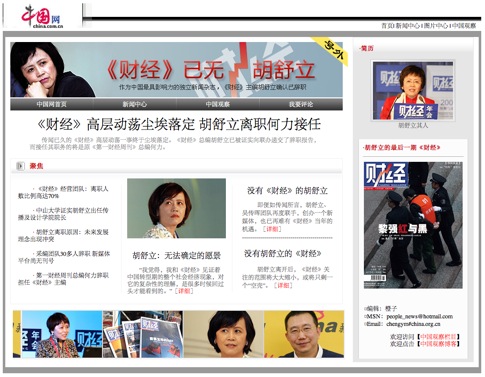 [ABOVE: Special page at China.com.cn aggregates content on Hu Shuli and Caijing.]
It is important to note that Hu Shuli's departure from Caijing is not just a topic of conversation, but a topic of coverage too. The major points emerging from these discussions and comments are that people in China's media industry generally have immense respect for Hu Shuli and what she represents, and that they are, at the same time, very concerned about the fate of journalism in China.
"To say people are deeply concerned about Hu Shuli prospects and those of Caijing is not so to the point as to say they are worried about whether [Chinese media] will make it through this thorny stretch of the path," wrote blogger Chen Jibing (陈季冰), a former editor at Shanghai's Oriental Daily.
By "thorny stretch of the path" Chen was referring, of course, to the present climate facing Chinese media and professional journalism in China – and this characterization is certainly more than fair.
Hu Shuli and Caijing traveled along this "thorny path" together for 11 years. As an editor, she held fiercely to the ideals of freedom of the press and journalistic professionalism.
From the earliest stages of Caijing's launch, she was crystal clear and steadfast about the need to produce independent news and conform with international journalism practices. She used the words "independent, exclusive and original" (独立、独家、独到) to encompass the magazine's editorial goals.
Hu Shuli was fond of drawing analogies between the needs of the market and the importance of professional media. "Nothing can override the principles of 'openness, fairness and equitability' in the market," she would say. "And of these three, openness has the first place. The public's right to know and the media's right to criticize offer the only guarantee of openness."
Upholding these ideals, Caijing engaged in serious investigative reporting. The magazine courageously exposed corruption, challenged power and parsed the existing economic and political environment, becoming in the process one of China's most trusted media.
News reports about the upheaval at Caijing, whether from party media or commercial media, have uniformly expressed enormous respect for Hu Shuli.
An article in the official Changjiang Daily (长江日报), "Ten Years of Hu Shuli's Leadership at Caijing Re-defined the Image of Chinese Media," spoke of the powerful example Hu's magazine had set for the rest of China's media.
With Hu Shuli's departure, Caijing has no choice but to face "life after Hu Shuli." Hu Shuli's next step is a matter for her alone to decide, but the professional character and quality evinced by Caijing under her leadership over the past ten years, the intelligence and courage . . . should become resources from which all Chinese media draw lessons.
This article was also re-posted at People's Daily Online.
For all the reasons cited in the Changjiang Daily editorial, Hu Shuli can be seen as a representative and role model for media reform in China.
Over the past 30 years, Chinese media have limped, slowly if not surely, toward the marketplace, and from a culture of overbearing control to one of greater diversity and openness. In this process, different media have chosen different paths.
Some media have fought bravely for freedom but had less success in the marketplace. Others have successfully entered the marketplace but remained narrow commercial ventures, interested only in leveraging political power for profit. Caijing was a rare example of a publication that had managed to achieve success in the marketplace while upholding its own ideal of independence.
Caijing's market success was quite formidable, in fact. The magazine reportedly earned more than 60 million yuan in 2008. And Caijing Online, a separate business venture, was shaping up as a pioneering effort to combine the strengths of new and traditional media.
Most important of all, Caijing never restricted itself to a narrow field of financial reporting. It operated editorially with a larger sense of social responsibility, and it keenly observed public policy issues.
Hu Shuli has been a visiting fellow at the China Media Project, and a regular visitor to the Journalism & Media Studies Centre here at the University of Hong Kong.
In March last year Hu delivered a public lecture here in which, in retrospect, she glimpsed the events that would shake Caijing this year. "Whether it's Caijing or Caijing Online, or Chinese media as a whole, all now face enormous challenges," she told the audience. "These challenges arise from government controls and from commercial interests. There are a whole range of core problems and issues involved here. I have no doubt that independent media will be one of the most hopeful forces of China's future. For now, however, media can only face the present."
Hu Shuli and much of her editorial team have now left Caijing. Naturally, this has brought a fierce round of speculation. What will become of Hu Shuli without Caijing? What will become of Caijing without Hu Shuli?
That this lovely pair has been separated is certainly cause for remorse. But as for anxiety, I think people should be more in suspense about the fate of Caijing without Hu Shuli. We can look forward with confidence and anticipation to Hu Shuli without Caijing.
We hear that in the final days, Hu Shuli's editorial team at Caijing kept their cool and went about their business producing the best issue they possibly could. Their coolness and precision are a reflection of confidence and ability, of their high level of professionalism.
We should not regard this as yet another "violent sacrifice" (壮烈牺牲), or necessarily as a solemn goodbye.
This marks a new chapter in the saga of change in China's media. As we raise our heads, we see that "thorny stretch of path." But I am confident that if we push on ahead, our feet will find the open road.
[Posted by David Bandurski, November 13, 2009, 1:54pm HK]