The front page of the Chinese Communist Party's official People's Daily newspaper featured an official commentary yet again today that sent a stern warning over violent standoffs between protesters and police in Hong Kong.
The commentary, like yesterday's attributed to "a commentator from this paper," or benbao pinglunyuan (本报评论员), marking it as a staff-written piece representing views in the senior leadership, was a stern warning to so-called "external forces" accused of fomenting discord in order to "impede the great rejuvenation of the Chinese people."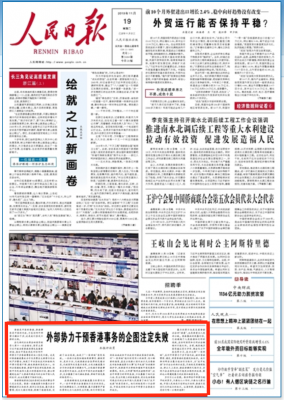 The commentary says that Xi Jinping's speech at the 11th BRICS summit of leaders in Brazil — also referenced in yesterday's commentary — had "sent a severe warning to the radical Hong Kong rioters and their behind-the-scenes supporters." [Featured image above by Studio Incendo under CC license.]
"Certain radical Hong Kong forces and violent rioters have deliberately destroyed public order and destroyed public facilities, have violently attacked police, have smashed and burned everywhere, have trampled the moral bottom line, broken through the bottom line of rule of law, and have challenged the bottom-line principles of 'one country, two systems,'" the commentary raged, in the breathless sentence composition so typical of official Party discourse.
"Certain Western politicians and media have been deceptive with the facts," it continued, "turning black and white on their heads, not distinguishing between truth and falsehood, neglecting the will of Hong Kong society, neglecting the basic principles of international relations, openly cheering for radical and violent separatist forces."
Concerning the public will, the latest independent polling in Hong Kong, where such polling is actually possible, showed in October that support for the protests remains strong. 52.5 percent in the poll said the SAR government bore the chief responsibility for tensions, while 18.1 percent put the blame on the police. Only 9.6 percent said the protesters were responsible.
The commentary concluded with cresting indignation, fomenting about "those external forces" that must "withdraw their black hands." But the opening of the final paragraph might easily have been read by protesters in Hong Kong as bearing words of encouragement, though the opposite was certainly intended.
"Injustice is doomed to destruction," it read.