One woman was killed and 12 others were injured today in a knife attack in a busy mall in Beijing. Police in the capital quickly released an announcement through social media saying that the situation was under control, and that a suspect was in custody.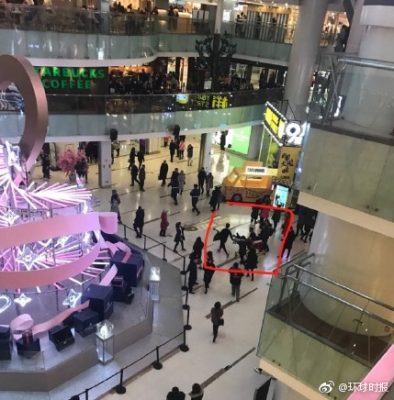 Image taken at the scene of today's Beijing mall attack, posted to the official Weibo account of the Global Times.
As of late evening, the Beijing police notice entirely dominated information about the incident on mainstream news sites and on social media. This
short news piece from People's Daily Online
also cites as its source "the official Weibo account of the Beijing police."
But even as news
based on the police notice
remained on the official accounts of some state media and local Beijing media,
such as this post from Beijing Evening News
and
this from the Global Times
, sharing of the notice and comment from some users was subject to deletion on Weibo.
The following post from "Ji Siliu" (
吉四六
), a former journalist for
The Beijing News
with more than 77,000 fans on Weibo, was deleted sometime after 4:35PM Beijing time today. It responded to a post of the notice from Beijing police, also for some reason deleted, by adding an apparent detail about events at the scene of the attack.
"I saw a security guard rushing in with wooden stool," "Ji Siliu" wrote. 
看到一个拿着板凳就上的保安。。。。