In late December, the local government in Qingdao, a major city in China's coastal Shandong province, issued a curious notice. It instructed Communist Party cadres and government officials to "dine more with entrepreneurs, make friends with them, and learn from them." This was, said the notice, about forming "a new type of cadre-entrepreneur relationship," or xinxing zhengshang guanxi (新型政商关系).

In the context of President Xi Jinping's ongoing anti-corruption drive, which since December 2012 has discouraged such behaviour, and
which has disciplined more than a million officials,
such a request sounds unusual, even risky. Isn't dining with businessmen the last thing officials want to do right now?
But this seemingly odd phrase,"a new type of cadre-entrepreneur relationship," offers us clues to the current economic situation in China — and how leaders are responding.
The Economic Slowdown
The phrase "new type of cadre-entrepreneur relationship" was first introduced in 2015, a year during which China's GDP growth fell below 7 percent for the first time in 25 years.
In March 2015, "new type of cadre-entrepreneur relationship" made its first appearance in the
People's Daily
, the flagship newspaper of the CCP. Qian Yingyi (钱颖一), an economist and a professor from China's prestigious Tsinghua University, brought the phrase up during a meeting happening around the "Two Sessions" (两会), referring to the annual meetings of the national legislature and China's top political advisory body. According to Qian, such relationship building, with the assistance of other government policies, was a must-have strategy for grappling with the economic slowdown.
Two months later, Sun Chunlan (孙春兰), the vice-premier who heads up the central government's United Front Work Department, became the first government official to use the phrase publicly in an address delivered
during a meeting of industry and commerce officials and representatives from non-Party organisations
(无党派人士代表).
But it wasn't until the "Two Sessions" in 2016 that the phrase became popular in the
People's Daily
, a measure of its growing importance. The phrase "new type of cadre-entrepreneur relationship" was mentioned in a total of 76 articles in the newspaper in 2016, versus just 7 articles for all of 2015 (including the reference to Sun Chunlan's remarks). In March 2016 alone, as the political meetings were in session, the phrase was mentioned 23 times.
Cross The River, But Don't Get Your Shoes Wet
According to President Xi Jinping, the "relationship" defined by this emerging catchphrase can be summarised into just two words: "intimacy" (亲) and "integrity" (清). But what do these two words mean?
Intimacy
The phrase "serving as a waiter," or 
dang hao dianxiao'er
(当好店小二), is another that can be seen in state media, including the
People's Daily
, to refer to how government officials should attend to entrepreneurs. The idea is that these humble government officials should be true servants, seeking every way possible to help companies out (千方百计帮助企业排忧解难).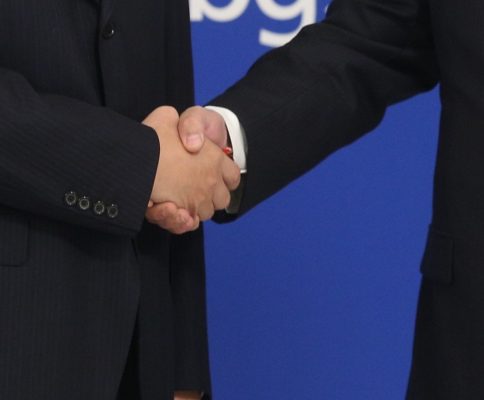 Photo by Kiril Konstantinov, available at Flickr.com under Creative Commons license.
Standing against this service-oriented concept is another phrase,
guan jia po
 (管家婆), or "busybody housekeeper," a practice or role often criticised in the
People's Daily
that implies situations in which the government places too many restraints on companies.
Some articles in the state media go even further, promoting a "nanny style" (保姆式) work mode. This refers, for example, to how some local governments assist private companies with getting funding from banks, speeding up administrative procedures, or even — as was the case with companies in the textile industry in Jilin province — working to optimise the local power grid.
In some provinces, government officials are also tasked with helping to educate the next generation of entrepreneurs.
In a project started in 2014 and continued this year in Huzhou
, a city in Zhejiang province, local government officials are paired with young entrepreneurs with the goal of "successfully training" 30 young entrepreneurs over a three-year period.
Integrity
The word "integrity" points to the expectation that officials remain "clean and pure," and be "without greed," not offering or accepting bribes as they develop the aforementioned "intimacy" with businesspeople. It also requires that businesspeople obey laws and regulations, and that they "wield the weapon of the law" to defend their own rights and interests. Integrity and intimacy are of course a delicate dance. Many of the officials taken down in recent years by Xi Jinping's anti-corruption campaign share similar stories. They are all alleged to have had relationships with businessmen that were "too close."
In Zhejiang, a province where private industry has long prospered, the local government has established what it calls "eight red lines" (八条红线) that officials must not cross when interacting with entrepreneurs. The lines include accepting gifts and visiting private clubs.
Intimate Fears
The idea behind the "new type of cadre-entrepreneur relationship" is that intimacy between the two sides might be  fostered in such a way that allows companies to thrive, producing the sought-after economic gains, while maintaining the integrity that keeps both sides clean. But this idea can be a hard sell under the very real pressures of the anti-corruption drive.
In an interview with the
People's Daily
, one official from the discipline supervision department in Guangdong province said that fear of running afoul of the anti-corruption campaign had
led some government officials to opt against responding to reasonable requests for assistance from companies
, avoiding contacts with entrepreneurs altogether simply to remain above all suspicion. "Before, some officials were intimate but not clean, now they are clean but not intimate," s
aid one recent article in the People's Daily
, summing up the challenge.
The concept of "integrity" is now tied up with "intimacy." The ideal for the relationship, as defined by Xi Jinping, is to be intimate with a sense of limitation or proportion, but to remain clean with a sense of limitation or proportion ("亲"而有度 "清"而无忧)." How this can be achieved is
now a constant theme in state media coverage
.
A Phrase on the Rise
The frequency of the phrase "new type of cadre-entrepreneur relationship" continued to rise through 2017 and 2018, with 88 and 92 articles respectively mentioning the term.
Another phrase recently added to the mix, amid broader concerns in China over the past three years that private companies are being ignored in favour of the state-run sector, is Xi's "Three Unchanges" (三个没有变). This boils down to the Party's commitment to encouraging private sector growth, unchanged since the policy of reform and opening began in 1978. But despite reassurances — readers can turn to
Qian Gang's analysis of the phrase "anxiety pill"
— there seems to be a growing sense of insecurity among entrepreneurs, and the slightest flutter of discouragement can inspire panic.
Such was the case back in the fall, when an online post by a Chinese businessman named Wu Xiaoping (吴小平) suggested that "China's private sector has served its role and should leave the field [in favour of the state-run sector] (中国私营经济已完成协助任务应逐渐离场). Wu's post was shared and discussed feverishly, prompting the
People's Daily
to run an almost immediate rebuttal calling Wu's suggestion a "rumour," and reaffirming the commitment to the private sector.
"It is true that private businesses are under much pressure in the current situation, especially small-scale businesses facing life-or-death challenges," said
the People's Daily commentary
. "But the Party's Central Committee has noticed the difficulties facing the private economy, and has introduced practical reforms."
These "practical reforms" are encompassed at least in part by this emerging catchphrase, a "new type of cadre-entrepreneur relationship." In a
November 1, 2018, speech to a high-level meeting of private enterprises
, President Xi sought to reassure entrepreneurs. "Private companies and private entrepreneurs are on our side," he said. He listed six points for supporting the growth of private companies, the bottom two points being about the need to "build a new type of cadre-entrepreneur relationship with both intimacy and integrity," and "protecting the safety of entrepreneurs and their properties."
This research post was written for the China Media Project by Elaine Wang.