Guangzhou's New Express, which made international headlines yesterday with a brassy front-page editorial calling for the release of one of its reporters from Changsha police custody, has repeated the call on its front page today.
In a bold headline in blue brackets toward the bottom of today's front page, the New Express says of reporter Chen Yongzhou: AGAIN WE ASK FOR HIS RELEASE. A smaller headline reads: "Everything must be resolved within the framework of the law. You cannot detain first and [rationalize] charges later." A jump directs readers to page A05, where there is a lengthy story summarizing the Chen Yongzhou case — drawing on reporting from other media, including the official Xinhua News Agency and The Beijing News.
More details on the circumstances of Chen Yongzhou's detention have also emerged.
Chen Yongzhou's wife told a reporter from The Beijing News that on the morning of October 17, Chen Yongzhou received a telephone call from Guangzhou police saying that there were new development's in a report of theft the family had filed months earlier. Chen's wife accompanied him to the police station, she said, because she was most familiar with the situation. When they arrived at the station they were taken into an interview room. Four or five officers then came in and identified themselves as Changsha police, saying Chen Yongzhou would be placed under criminal detention effective immediately.

So far, plenty of other Chinese media have followed suit with this story. We are hearing that a strongly worded editorial from Guangzhou's Southern Metropolis Daily was removed by propaganda authorities. The headline of that editorial apparently was: "Cross-Regional Detention Sends Chill Through Media; The Abuse of Police Powers Does Not Stand Before the Law."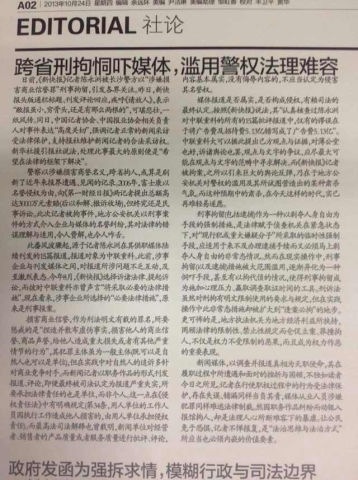 Original page layout for an editorial to be run in today's Southern Metropolis Daily that was eventually, sources at the paper say, killed by censors.
However, the
Southern Metropolis Daily
has managed to publish
a second editorial on Page 02 today
, and it has plenty to say.
The editorial argues that the Chen Yongzhou case is about a serious abuse of power by authorities in Changsha. "Even more unsettling," the editorial says, "is if local authorities act only to serve local economic interests, if they ignore legal limitations and preventative regulations to pursue cases and arrest suspects, not only is this the ugly result of the failure to limit power, but it becomes a serious example of power doing evil."
The editorial also reiterates a point many people have emphasized over the past 24 hours, that even if an investigation shows that a news report contain serious factual errors causing demonstrable damage to a company's business and reputation, the focus of legal action should be the media itself, not the individual reporter.
Images for a number of other important editorials and reports appearing in China's media today follow.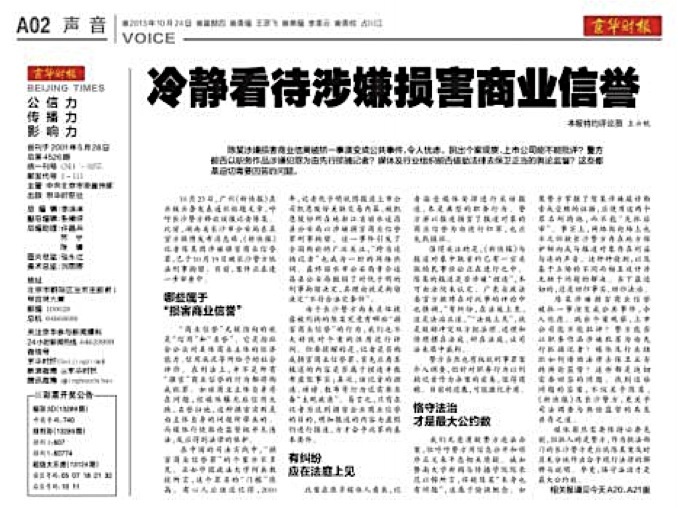 The Beijing Times: "Seeing With Cool Heads the Issue of Damage to Business Reputation"