It's a new week, and the mood seems to have flip-flopped over the Chinese Communist Party's reform plans emerging from the Third Plenum. The communique released last week — the menu before the meal — left many observers disappointed. The full text of the "Decision", however, released last Friday, served up plenty of tasty tidbits of language with which we can now stuff ourselves.
We'll leave the meatier bits about the economy to others and focus on this cold side-dish of ours — media policy.
There are basically three points in the "Decision" that deal with media or culture. And we also have relevant language in the "explanation" released on Friday by Xinhua News Agency. So we're looking at four elements here.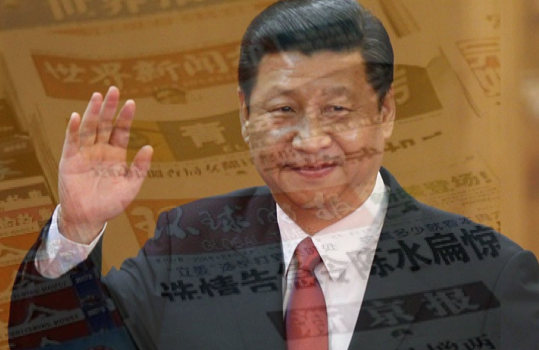 Xi Jinping has outlined his direction for China's future. What will it mean for media and culture in the country?
Jumping right in, Section 36 of the decision, on "strengthening institutional protections and innovating mechanisms for opposing corruption" (加强反腐败体制机制创新和制度保障), includes a mention of "supervision by public opinion," or
yulun jiandu
(舆论监督), among the mechanisms needed to combat corruption, which are referred to collectively as a "system of laws and regulations to fight corruption" (反腐倡廉法规制度体系).
Yulun jiandu, which can be translated "watchdog journalism," is meant as a sort of state-santioned media supervision of power. It made its first high-level appearance in the CCP political report in 1987, used by Zhao Ziyang, and it has been a regular feature of Party language on supervision ever since. So this is no surprise. But, we could say, better to see it here than not at all.
Moving on, Section 38 of the decision deals with "promoting the innovation of cultural systems and mechanisms" (推进文化体制机制创新). Much of this section is the same boilerplate language we saw in the political report to the 17th Party Congress in 2007 and at the October 2011 plenary meeting on cultural reforms. China's goals are to create a "socialist strong-culture nation" (社会主义文化强国) and to "enhance national cultural soft power." As it pursues these goals, China must remain loyal to its socialist and Marxist core values.
These are points President Xi Jinping re-emphasized in his August 19, 2013, speech on ideology.
The "Decision" also pledges a "deepening of cultural reforms," though the precise meaning of these reforms (deep or not) has always been murky.
The next portion of this section is noteworthy for the questions it leaves open. Here is what it says:
(38) Improving cultural management systems. Under the principles of separating government functions from enterprise management and separating public service units from the government, promoting the transition from [a mode of] government units operating media to government units regulating the media (政府部门办文化/政府部门管文化), and promoting further rationalising of the relationship between Party-government units and the cultural state-run institutions associated with them (推动党政部门与其所属的文化企事业单位进一步理顺关系). [We must/will] create regulatory agencies for the oversight of state-owned cultural assets, carrying out the integrated management of personnel, affairs, assets and [public opinion] guidance (建立党委和政府监管国有文化资产的管理机构,实行管人管事管资产管导向相统一).
The transition here is from "operation" (办) of culture by government units to "regulation" (管) of culture by government units. What exactly does this mean? One could argue that it means a kind of stepping back from culture, less direct meddling in favor of letting cultural enterprises do their thing.
But don't hold your breath. Control is still the overriding priority here, and the next paragraph of section 38 makes this very clear. This paragraph addresses the issue of "systems and mechanisms" for "adhering to correct public opinion guidance." This term, public opinion guidance, or yulun daoxiang (舆论导向), remains the cardinal term governing media and cultural practice and their relationship to the Party and public. The idea of "guidance" is that the Party must control the media, and therefore public opinion, in order to maintain social and political stability.
Here is the passage, which will leave in Chinese as well for the convenience of our readers:
[We must/will] perfect systems and mechanisms for adhering to correct guidance of public opinion. We must fully build interactive mechanisms for the work of basic management, content management, industry management and the crackdown on and prevention of criminal conduct online. [We must/will] perfect mechanisms for handling online sudden-breaking incidents, creating an online public opinion work pattern that integrates positive public opinion channeling and management according to rule of law. [We must/will] integrate news media resources, promoting the integrated development of tradition media and new media. [We must/will] promote the institutionalization of news release. [We must/will] strengthen the professional credentials system for news workers, and prioritize the use and management of new media, and regulate the communication order.
健全坚持正确舆论导向的体制机制。健全基础管理、内容管理、行业管理以及网络违法犯罪防范和打击等工作联动机制,健全网络突发事件处置机制,形成正面引导和依法管理相结合的网络舆论工作格局。整合新闻媒体资源,推动传统媒体和新兴媒体融合发展。推动新闻发布制度化。严格新闻工作者职业资格制度,重视新型媒介运用和管理,规范传播秩序。
The possible warning flags here are the crackdown on "criminal conduct online" and the language about strengthening the "professional credentials system for news workers." In recent months, there has been a sustained crackdown in China on ostensibly "criminal" conduct online. But while this campaign has been rationalized by playing up "rumors" and "false information" as a sort of public health threat the leadership must stamp out in the public interest, it is clear the real priority is to maintain good old-fashioned "public opinion guidance" in the face of the new challenges presented to the Party leadership by social media (think "Big V" crackdown).
As for professionalism in the media, we can't think of this issue right now without thinking of the recent and ongoing mess of the Chen Yongzhou affair. The big question with this language in the decision, and with the Chen Yongzhou affair too, is whether the leadership has a genuine interest in improving the professional conduct of journalists, or whether this is ultimately about keeping journalists at bay. The tension between the control mandate and the "supervision" mandate has always been there, presenting problems for the notion of watchdog journalism as a tool to fight corruption (Section 36).
The decision's conclusion (Section 60) gives us our third bit of media-related language, the need to "strengthen propaganda and public opinion guidance in order to create a favorable social environment for the deepening of reforms." That's classic control language once again. Not particularly noteworthy.
Finally, the "explanation" released on Friday provides us with the most explicit media-related language emerging from the plenum. It makes clear that the internet and social media are issues of primary concern to the leadership.
Our experiences have shown that there are clear deficiencies in our current management systems in the fact of the rapid development of internet technologies. These principally are: overlapping management bodies (多头管理), overlapping functions (职能交叉), conflict of rights and responsibilities (权责不一) and lack of efficiency (效率不高). At the same time, as the qualities of internet media grow stronger, online media management and industry management cannot keep up with development and change. In particular, as we face the rapid development of Twitter (微客), WeChat and other social media and real-time communication tools that are rapid, influential, and have scale and social mobilization capacity, the question of how to strengthen online legal building and public opinion channeling to ensure order in online communications and national security has already become a conspicuous problem standing before us.
This passage tells us that the leadership is deeply concerned about the challenges it faces to its dominance of public opinion as new technologies bring new possibilities. But of course it is also up to the challenge, determined to "strengthen online legal building and public opinion channeling."
There is only one other aspect of this passage I find noteworthy. The explanation says that new media have presented challenges to "online information order" and "national security." One of the biggest stories coming out of this plenum has been the creation of a new National Security Commission. So I just want to put this question out there . . . How might the Party re-tool and redefine its approach to the internet and social media in light of its shifting approach to national security?