Read the news about the news in China today and you might note the sober and severe tone. The official Xinhua News Agency reports that nine government departments have jointly launched a concerted campaign to "crack down on news extortion and fake news." [Click here for a past CMP example of "fake news"].
The notice, we are told, refers to these practices as "journalism diseases (新闻界病害) that seriously damage the image of the press corps and erode the authority and credibility of the news media."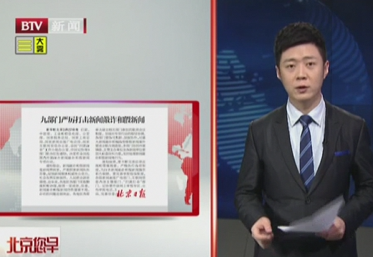 Beijing TV reports on the government's new campaign to strike down "fake news" and "news extortion."
I have written extensively about the relationship between media control and the basest conduct in China's media. Almost eight years ago, I wrote in
Index on Censorship
:
The whole ecology of speech and information in China today faces a crisis of credibility. The media is invested with power by virtue of its traditional role as agent of the Party's will. As it is hustled away from public interest coverage and toward profitability, the temptation to abuse that power and pander to the basest interests of the public grows stronger. China now has its own brand of yellow journalism. There is 'news extortion', in which journalists write critical news reports about companies and then pressure them into taking out ad contracts. There is 'paid-for-news' — state-controlled media coverage sold to the highest bidder. There is 'fake news' — fabricated content tailormade to 'attract eyeballs'. In one case several years ago, a newspaper convinced a young woman to donate her liver so they would have an exclusive news story. And of course, there is good-old-fashioned propaganda.
News extortion and fake news have been endemic to China's media environment since at least the mid-1990s. Campaigns against them are nothing new — which, of course, should raise questions about the efficacy of fist-pounding campaigns to enforce government notions of professional practice in the media.
Way back in May 2006, I wrote about an official bulletin released through state media outlining six cases of news extortion and warning media to watch their conduct.
Unable to loosen their grip, Party leaders fail to understand that control itself, combined with the commercial imperative, has lead to the steady erosion of credibility in China's media. If you tell underpaid journalists that their role is not to report real news but to serve the Party, that public interest stories are off limits, but that somehow they must find a way to win over readers (or otherwise create revenue), you have a recipe for media corruption. And in fact the temptation to extort money is even greater for Party and government media, which have the power to pack a real punch. (The "gold nugget" case reported by Liu Chang at China Youth Daily is a strong case in point.)
As I read the news of the notice this morning and thought — yet again — about how I might illustrate the hypocrisy that looms behind these government pronouncements on credibility and responsibility, I suddenly realized the answer was right in front of me:

Can't quite make it out?
Well, here's a close-up that might help. The image to the right of the Beijing Daily article, the slightly racy one with the woman lying supine, bears the headline — and I apologize to anyone who finds this offensive: "How many times can a woman take it in one night?"

I was reading the report, along with a video of the Beijing TV newscast, on a Chinese news portal called China.com.cn. Do a WHOIS search on the website and you find that it is associated with China.org.cn. No? Doesn't ring a bell? Well here you go:
The authorized government portal site to China, China.org.cn is published under the auspices of the State Council Information Office and the China International Publishing Group (CIPG) in Beijing.
The Chinese introduction for China.com.cn says essentially the same thing:
China.com.cn is an important national news portal that is under the leadership of the Information Office of the State Council and the China Internet Network Information Center, and is managed by the China Foreign Languages Publishing Administration. . .
I'll avoid the temptation to editorialize any further on this most recent campaign, which at best is pointless and at worst could justify a crackdown on real news reporting.
But I do wonder what the folks over at the Office of the National Working Group on Anti-Pornography, one of the nine departments behind this "special movement," think of the salacious content being peddled on this "important national news portal . . . under the leadership of the Information Office of the State Council."
Then again, I'm sure their eyes are focused piously on the campaign ahead.
A full translation of the Xinhua report follows.
Nine Departments Including Central Propaganda Department Issue Notice: Harshly Cracking Down on News Extortion and Fake News (中宣部等九部门印发通知: 严厉打击新闻敲诈和假新闻)
March 28, 2014
Original headline: Harshly Cracking Down on News Extortion and Fake News
Xinhua News Agency, March 27, 2014, wire — In recent days, nine official departments, including the Central Propaganda Department, Ministry of Public Security, State Administration of Taxation [http://www.chinatax.gov.cn/], State Administration of Industry and Commerce, the State Administration of Press, Publication, Radio, Film and Television, the State Internet and Information Office, and the Office of the National Working Group on Anti-Pornography, jointly issued a notice in which it was decided that a special movement should be launched to strike out against the practice of news extortion and fake news nationwide.
The notice pointed out that news extortion and fake news are journalism diseases (新闻界病害) that seriously damage the image of the press corps (新闻队伍) and erode the authority and credibility of the news media. The response of various corners of society [to these practices] has been intense, and the masses regard [them] with abomination.
The notice demands that propaganda department at various levels must take the lead in building [local] systems of joint meeting of relevant departments in order to strengthen coordination of this movement. Every department must perform its respective tasks, strengthening cooperation and setting up joint investigative task forces to address major case of news extortion or the fabrication and transmission of fake news, so that investigation is carried out by many departments in a cooperative fashion.
The notice emphasized that laws, regulations and management principles must be constantly improved, so that plans and system operate strictly, in order for there to be effective support for striking out against news extortion and fake news. Mechanisms to report complaints must also be improved. At various levels, the State Administration of Press, Publication, Radio, Film and Television, the State Internet and Information Office, the Office of the National Working Group on Anti-Pornography, and the All-China Journalists Association must set up special services for online complaints and publicize complaint hotlines — so that complaints from society can be gathered quickly. Search systems for open information should be improved, enabling members of the public to determine whether journalists or media are or are not real, and so they can check information about websites. Media assessment systems (媒体评议制度) must be improved, with the regular organization of assessments by members of society and industry representatives to determine if news media, internet sites and media personnel are maintaining good discipline and professional ethics, so that the level of self-discipline can be raised by effective oversight by society.