With last week's inaugural World Internet Conference, held in the Zhejiang water town of Wuzhen, China tried to put itself on the map of global web development forums. The country's internet chief, Lu Wei, said the summit, which he likened to a "Davos of the East," would be an annual event drawing together leaders from foreign governments, key non-profits (like ICANN) and major internet companies.
But behind the obligatory feel-good panels, with titles like "Creating an Online Global Village Together," lingered tougher questions about China's goals and hopes in hosting the event.
What business did a country with the world's most robust system of information controls have talking about more "democratic" internet governance systems?
We explicated some of China's core intentions here last week, arguing that the World Internet Conference was really about "a more assertive foreign policy for cyberspace" wrapped up with the CCP's priority of strategic information control.
But if China's intentions were at all opaque, they became clear in the most illuminating of ways right in the midst of the conference. The CCP's very exercise of control on social media came back to haunt the "Wuzhen Summit" on — where else? — social media. A new online meme defined the mood and meaning of the event in ways Xi Jinping's propaganda chieftains could scarcely have envisioned.
The dogs of propaganda bit their own tails. Or, more appropriately perhaps, were caught licking their own back ends.
Meet Hua Qianfang (花千芳).
Hua Qianfang is the nom de plume of Ning Xueming (宁学明), a "grassroots online peasant writer" from Liaoning's Qingyuan Manchu Autonomous County (清原满族自治县). He is a member of the local official writer's association in Fushun, and he has been called — along with Zhou Xiaoping (周小平) — one of the "four principal online positive energy writers (中国网络正能量四大写手之一).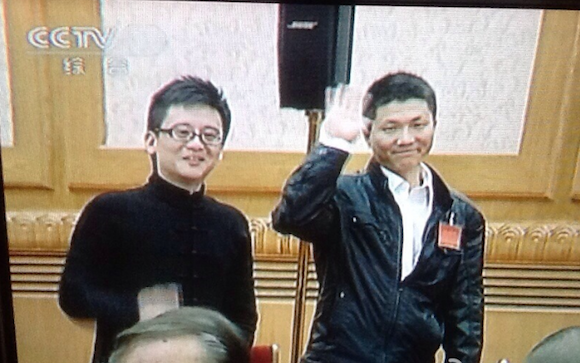 Zhou Xiaoping (left) and Hua Qianfang (right) appear on state television as they attend the CCP's forum on arts and culture.
For more on Xi Jinping's new propaganda phrase, "
transmitting positive energy to society,
" and its grassroots pundits — given plaudits at the recent CCP forum on arts and culture — readers can
visit this earlier piece
, and
this one
.
Recently, in the wake of Lu Wei's crackdown on "Big Vs" on Weibo, Xi Jinping
said he hopes that "Big Vs"
(meaning his kind) do more to "spread positive energy." Hua Qianfang and Zhou Xiaoping are the faces of this new "positive" approach to control.
Hua's best-known work is, "Ours Is A Journey Through a Sea of Stars"(
我们的征途是星辰大海
), the title of which Hua quite unwittingly stole from Japanese writer
Yoshiki Tanaka
.
Plagiarism notwithstanding, on October 15, 2014, Hua attended Xi Jinping's Forum on Arts and Culture, where the president mentioned him by name as an exemplary writer.
But it was on November 21, 2014, as Hua Qianfang took part in China's inaugural World Internet Conference, that the fun really began.
Posting on Weibo about attending of the conference, Hua wrote that, "In its determination to lead the Information Age, China already has the heart of Sima Zhao."
Who is Sima Zhao?
Si Mazhao
(司馬昭) was a war general during China's
Three Kingdoms
period (AD 220–280) that followed the end of the Han dynasty.
Before I get into the sub layers, here is Hua's delightful quote in Chinese:
「中国引领信息时代的决心,已经是司马昭之心了。」
And here is a screenshot of the Weibo post in question, which set off a firestorm of giggles and groans on social media that eclipsed all other news of China's ostensibly landmark internet conference.

The problem with Hua Qianfang's remark is that Sima Zhao is a historical figure associated with deception, with knavish intrigue that despite its supposed secrecy everyone knows is happening.
This is why the ancient adage goes: "Even those passing on the road know what secrets Sima Zhao harbours in his heart"(司馬昭之心,路人皆知也).
And this is what makes Hua's statement so blindly astute. Yes, indeed, China's global internet ambitions are a transparent deception.
Sima Zhao is not, as Hua seems to believe, a paragon of strength and determination. He is, instead, a scoundrel.

So the "Sima Zhao heart," or Sima Zhao zhi xin (司马昭之心), is a heart of deception.
Journalists, academics and internet users of all stripes quickly picked up on Hua Qianfang's enlightening gaffe, and the hubbub over the idea of "Sima Zhao's heart" as the ethos of the "Wuzhen Summit" quickly drowned out the official narrative.
There are lessons to be had here — yet again — about the pitfalls of propaganda in an age where citizens (or at the very least, netizens) are far more savvy and skeptical than the purveyors of propaganda can afford to be.
Encourage "positive" ignorance and fawning blindness among the "Big Vs" you trumpet as your champions, and they are bound to make you look foolish.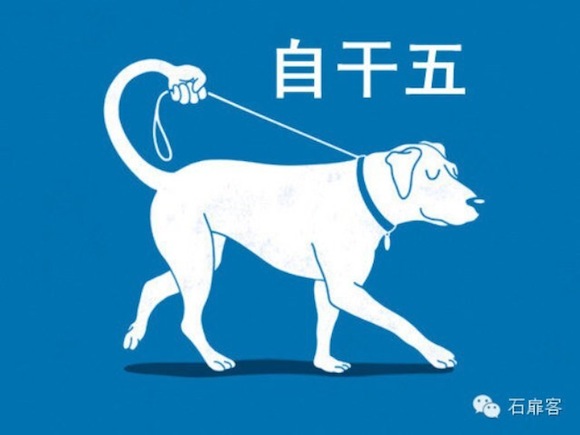 , is a new term in Chinese referring to a pro-government propagandist who willingly serves as an apologist, needing no payment in return. This image by writer Shi Feike shows the BYOG as a self-walking dog, holding its leash with its own tail.
(人物) magazine. Hua readily admits to his sparse reading of historical and political matters, and says he gets "all of my knowledge from online posts."