Last Friday, as the curtain closed on the annual session of the Chinese People's Political Consultative Congress (CPPCC), China's mostly nominal political advisory body, the group's chairman, Yu Zhengsheng (俞正声), arrived at the Hunan Room (湖南厅) of the vast Great Hall of the People to meet with "journalist representatives" (记者代表) from core Party-state media.
Organizations in attendance included the usual suspects: the People's Daily, Xinhua News Agency, China Central Television, Guangming Daily, the Economic Daily, China National Radio and the English-language China Daily. And as the CPPCC chairman always does, Yu Zhengsheng praised state media for their "cooperative" and "positive" coverage of the meeting, where a dizzying 6,000 proposals were reportedly submitted.
It hardly seems newsworthy to note that press controls in China continue unabated. Nor is it newsworthy any longer to note that the press remains more cowed under Xi Jinping than perhaps at any time under his predecessor, Hu Jintao, when in-depth and investigative coverage was being progressively reined in but still stood a better chance of slipping through.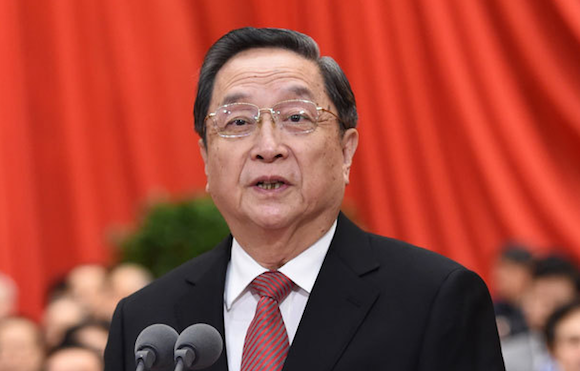 Politburo Standing Committee member Yu Zhengsheng, chairman of the CPPCC, praises China's state media on Friday, March 13, for their "cooperative" attitude.
But we can note, at least, that Xi Jinping's notion of "
positive energy
" — by which he means positive and helpful news coverage and online opinion as opposed to critical and unhelpful news and views — continues to exert its influence alongside the old notion of "public opinion guidance." Here is
the summary of Yu Zhengsheng's remarks that appeared in the official People's Daily on March 14
:
Central news units cooperated closely with, and tightly adhered to, the agenda of the meeting, maintaining correct guidance of public opinion, prioritising new methods of reporting, and fully reporting the fruitful results of the CPPCC in promoting the full building of a moderately well-off society, the comprehensive deepening of reforms, comprehensive rule of the nation according to law, and comprehensive efforts to implement strict administering of Party discipline. [The media] widely propagated the opinions and recommendations of the CPPCC Standing Committee on major questions of reform, development and stability as well as real issues of concern to the people, fully evincing the favourable impression that the CPPCC works for the good of the country and the people, and that it is doing its utmost. [The media] condensed the broader consensus [in their reporting], praised positive energy, and showed up the unified and democratic climate of the CPPCC.
In its English-language coverage of Yu Zhengsheng's speech, in fact, CCTV America noted right in the lead that Yu had "called for continuing efforts to pool 'positive energy' to contribute to the country's development."
In China's media, things are looking positively "positive."