According to a well-traveled Chinese proverb, "If the people labor with one mind, even Mount Tai can be moved." That may be an uplifting notion where mass mobilisation is concerned. But can it be applied to the highly individualistic enterprise of innovation? Yes, say China's leadership elite. And they have a lot riding on the idea.
At the present moment, innovation is China's Mount Tai.
Presenting his government work report to the National People's Congress back in March — including his "Plan for Work in 2015" — Premier Li Keqiang laid great stress on innovation as the way forward. As China faces a "new normal" fraught with various "systemic, institutional, and structural problems" (which Li characterised as "tigers in the road"), the country has to become more inventive, he said.
"China's economic growth model remains inefficient," said Li. "Our capacity for innovation is insufficient." He added: "As the force that has traditionally driven economic growth is weakening, it is imperative that we intensify structural reform, boost efforts to implement the strategy of pursuing innovation-driven development, and upgrade traditional engines while creating new ones for driving development."
The keyword here (for Chinese discourse junkies) is not just "innovation," or chuangxin (创新), but rather "innovation-driven development," or chuangxin qudong fazhan (创新驱动发展). And if we map the term over the past year, we have an image of, well, Mount Tai:

The Mount Tai formed by "innovation-driven development" in China's media allows us to visualise the deployment of "innovation" as political discourse. It's no accident that the term crested the same month Li Keqiang presented his government work report. This is a familiar pattern we see in China around important leadership gatherings, where policies like the "innovation-driven development strategy" (or any number of other flavours of the month) are introduced or given higher profile.
Right now, "innovation" is reverberating through China's media ecosphere. Entrepreneurship is being sold as a new national obsession (as property speculation was from the late 1990s). The start-up, it seems, is the new blast furnace, the blazing fire in which the masses are to melt down the old ways and forge a new "growth model."
The vision of innovation outlined by the Chinese Communist Party is tied closely to information technology, and an important component is the "Internet Plus" (互联网+) plan Li Keqiang unveiled in his government report on March 5, which involves spurring economic growth through the integration of internet technologies with other businesses and manufacturing. As Premier Li said:
Emerging industries and new types of businesses are areas of intense competition. We will launch major projects to develop high-end equipment, information networks, integrated circuits, new energy, new materials, biomedicines, aero engines, and gas turbines, helping a number of emerging industries to become leading ones. We will develop the "Internet Plus" action plan to integrate the mobile Internet, cloud computing, big data, and the Internet of Things with modern manufacturing, to encourage the healthy development of e-commerce, industrial networks, and Internet banking, and to guide Internet-based companies to increase their presence in the international market.
A preponderance of official hype does not necessarily mean innovative things aren't actually happening. They certainly are, and we can expect to see interesting experiments at the intersection of information technology and business in China. But the hype reminds us at the same time of the relatively centralised nature of power in China, where policies are dictated from the top with the expectation that they are fulfilled below — a fact that could restrain innovation as much as spur it.
With that in mind, it behooves us to look at the rest of the discourse being reinforced alongside this horizon-less idea of "innovation" and Internet Plus: the discourse of control and limitation.
As it turns out, we are offered a crystal clear reminder of the tense pairing of development ("innovation") and political control in the form of a recent inspection tour of Shenzhen media by Lu Wei (鲁炜), China's cyber czar (as head of both the Cyberspace Administration and the General Office of the Central Leading Group for Internet Security and Informatization overseen by President Xi Jinping himself).
Shenzhen is symbolic because it has been singled out as China's chief hub of innovation, on which basis it recently edged neighboring Hong Kong out of the top spot on a list of most competitive cities in China. Hong Kong lost out on the list, compiled by the Chinese Academy of Social Sciences, because it did not adequately support innovation.
One oft-cited illustration of Hong Kong's failure on the innovation side concerns the eventual setup in Shenzhen of DJI, a company first established in Hong Kong that is now a world leader in the design and manufacture of Unmanned Aerial Systems, or drones, and has led Shenzhen in becoming a global centre for drone design. Interestingly, the image accompanying official media coverage of Lu Wei's inspection tour of Shenzhen media last week shows him beaming as editors at Shenzhen News Online, the city's top government-run news portal, unveil one of their new in-house drones, which presumably will be used to "innovate" news coverage.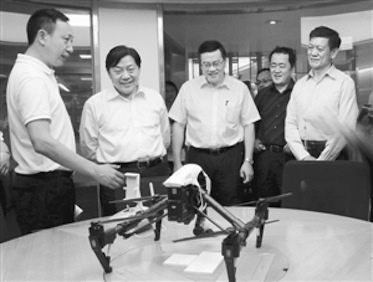 The head of China's Cyberspace Administration, Lu Wei, the country's top internet control official, visits Shenzhen News Online earlier this month.
During his tour, Lu Wei gives Shenzhen News Online "a high degree of recognition" for breaking new ground in recent years, and notes that Shenzhen will play a "leading role" in the Party's Internet Plus strategy. But Lu emphasises that the site's success also derives from its "firm grasp of guidance," a reference to
the propaganda policy that has held sway in China since June 4, 1989
, the notion that all media must adhere to the Party line in news coverage in order to ensure social and political stability. Lu Wei also links innovation to the "spreading of positive energy," now one of the core concepts in Xi Jinping's treatment of media, arts and culture.
Most telling, however, is Lu's reversion to one of the oldest terms in the Chinese Communist Party's media control lexicon, the principle of "
politicians running the newspapers
," or
zhengzhijia banbao
(
政治家办报
). This is a phrase first used by Mao Zedong in 1957, when he said: "The writing of articles, and especially of official editorials, must take into account the overarching interests of the Party, being closely united with [the necessity of] political circumstances; this is what is meant by politicians running the newspapers."
The bottom line in media policy, in other words — for Lu Wei as for Xi Jinping — is that media must serve the interests of the CCP. This was true in 1957, when the print media of which newspapers were representative had primacy. And it is true in 2015, as the Party defines internet technology as its path to economic "innovation."
Internet Plus is only half the equation. Party control is the balance.
Lu Wei Visits Shenzhen Newspaper Group and Voices Hope Shenzhen Will Play Leading Role in the 'Internet Plus' Strategy"
Yesterday afternoon, Lu Wei, deputy minister of the Central Propaganda Department and director of the Internet Security and Informatization Leadership Group of the CCP Central Committee, made an inspection tour of the Shenzhen Newspaper Group, where he gave a high degree of recognition to the development of Shenzhen Newspaper Group's flagship website — Shenzhen News Online (深圳新闻网).
Shenzhen, he said, is a priority city for internet development, a place where technology, funds, talent and innovation consciousness were all concentrated — and it should play a leading role in the "Internet Plus" strategy, becoming a model for smart city (智慧城市) development.
The city's deputy Party secretary, Dai Beifang (戴北方) took part in the inspection tour.

. . .
Lu Wei used the phrase, "Good team dynamics, multi-innovation in work, a firm grasp of guidance, strong development potential" (队伍状态好,工作创新多,导向把握牢,发展潜力大) to in his assessment of Shenzhen News Online. Coming to Shenzhen News Online, he said, he felt that this was a place full of dynamism and passion, a force of vitality and progress. "It is because of your innovation," [he said,] "that there has been an increase in the spread of positive energy, and a rise in influence, ensuring that Shenzhen moves more fully toward the whole country, and to the world."
Lu Wei said that Shenzhen News Online's successes were inseparable from the Shenzhen Newspaper Group's ideas about constantly promoting the integrated development of traditional media and internet media, and from the Shenzhen Newspaper Group's persistence in upholding the [principles of] the politicians running the newspapers (政治家办报) and a firm grasp of correct guidance of public opinion. [He] hoped that Shenzhen Newspaper Group would continue to innovate, putting effort into multimedia across the industry, putting effort into [developing] penetrating power (穿透力) and influence, putting effort into [developing] new technologies and new methods, using language and forms loved by the masses to constantly innovate and advance the formats and content of news reports, fashioning Shenzhen News Online as a leading national website providing more online positive energy (网络正能量).