Released yesterday by the State Council, China's white paper on its "hard-won tangible results on human rights" in 2014 is an exemplary work of dissimulation. Unseemly social and political facts loom behind nearly every piece of hard data the report presents to construct a composite portrait of cherished progress.
Among my favorites is the statistic, plucked out in coverage by China Central Television, that the government received "2.72 million tip-off and complaint letters." I don't doubt that one bit. The number, in fact, is almost certainly a drastic underreporting. But almost every case running through China's petitioning system is an exercise in futility — or worse, an invitation to monitoring by China's security police.
Yu Jianrong, a respected Chinese social scientist, has written extensively about the failings of China's petition system, and about the often violent interception of petitioners. Or you could watch Zhao Liang's gripping documentary, "Petition."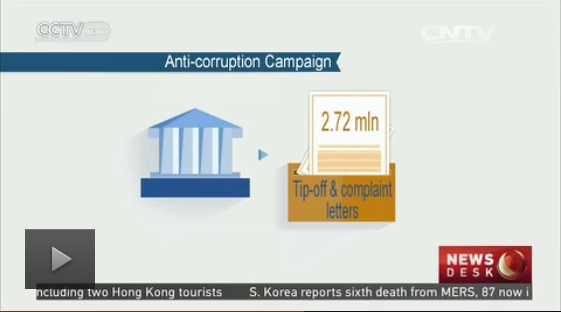 Screenshot of coverage of China's human rights white paper on CCTV, an endless chain of statistics without story or context.
Well then, how about China's courts?
Section 4 on the "Right to Impartial Trial"
deals with that issue. It begins: "In 2014 China's judicial bodies at all levels enhanced
judicial justice
and openness, adopted multiple judicial reform measures and ensured impartiality in the trial of cases, thereby safeguarding human rights in the field of justice at a higher level."
One huge problem there. "Judicial justice" is a term only recently introduced by the Chinese Communist Party because in only the past year it has developed
a powerful aversion to the term "judicial independence."
Freedom of speech is "better protected," the paper says. How do we know that? Just look at the numbers!
*46.5 billion copies of newspapers
*3.2 billion copies of periodicals
*8.4 billion copies of books, with 6.12 copies of books per person
*650 million netizens
*Internet penetration rate was 47.9 percent
*508 million smart phone users
*433 million online video users
*249 million microblog users
"The public can air opinions, and raise criticisms and suggestions freely through the news media, and discuss problems of this country and society," the report says.
Of course there is no glimpse at all of the news censorship that has now become so crippling that investigative reporting in China has been virtually extinguished in the space of five years — or of film censorship that aborts the creative process at every imaginable stage. There is no discussion of the criminalization of speech on social media, of the kind now being used to persecute the lawyer Pu Zhiqiang.
"Cultural services keep growing," the report glowingly claims. How do we know that? X number of stations. Y number of programs. Z number of "cultural volunteers." Another statistical Paint-By Number.
I could pick away at the 21,000-character report all day. But I just want to note that it made the front page of today's People's Daily. You can see it at the very bottom of the page, just left of the image.

The full text of the human rights white paper is also published in today's People's Daily, occupying all of pages 9 and 10. Page 11 includes other related coverage of China's "new achievements" on human rights as it continues "on the voyage toward realizing the Chinese dream of the great rejuvenation of the Chinese people."
A translation of the front-page coverage follows:
White Paper "China's Progress on the Cause of Human Rights, 2014," Released
The Cause of Human Rights in China Makes New Gains
Xinhua News Agency, Beijing, June 8, Journalist Sun Tiexiang (孙铁翔) — The white paper "China's Progress on the Cause of Human Rights, 2014," released on June 8 by the Information Office of the State Council, provides full coverage of the various achievements China has made in the cause of human rights. The white paper says that, in 2014, China's human rights benefitted even more definitely from the country's development and progress, and the cause of human rights gained new achievements.
The full text of the white paper runs to 21,000 characters, introducing the achievements China has made on human rights through substantial data and facts on 9 different aspects, including: the right to development; personal rights; democratic rights; the right to fair trial; ethnic minority rights; the rights of women, children and the elderly; the rights of those with disabilities; environmental rights; and international dialogue and cooperation.
The white paper says that on the voyage toward realizing the Chinese dream of the great rejuvenation of the Chinese people, the Chinese Communist Party and the government of China doubly cherish these hard-won tangible results on human rights and the valuable experiences that have been gained, and they will work to develop various ventures for the benefit of human rights protection and realization, allowing all individuals to develop themselves and remain devoted to society, together enjoying opportunities in life, together enjoying the opportunity to realize their dreams, together enjoying the rights to equal participation and equal development.
(For the full text of the white paper and related coverage, see pages 9, 10 and 11)