IT has now been eight days since state media in China reported that Caijing magazine journalist Wang Xiaolu (王晓璐) had been subjected to "criminal compulsory measures" stemming from a report on the stock market he wrote back on July 20, 2015. In a graphic illustration of just how sensitive this story is for China's leadership, only one mention of Wang has been made in the domestic press since September 1, the day after the reporter's so-called "confession" was aired on China Central Television.
According to my search of the WiseNews database, 17 newspapers in China ran the news of Wang Xiaolu's "confession" on September 1, all using the official release from Xinhua News Agency.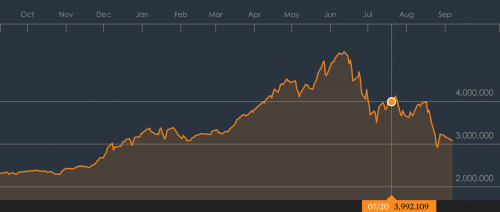 The Shanghai Stock Exchange Composite Index over the past year, with selection of July 20, 2015, the day Wang Xiaolu's report ran in Caijing magazine. The market improved for three days after, surpassing the 4,000 mark, then eventually plunged again. Source: Bloomberg.
The next day, September 2, the
Global Times
offered what so far has been the final word
, with a piece headlined, "Caijing Journalist Arrested on Suspicion of Fabricating Information."
Thankfully, I suppose, these final words were measured — by the standards, at least, of the hard-fisted newspaper. The article noted that "a number of Western human rights organisations" had issued statements "insisting Wang Xiaolu was a scapegoat," and it acknowledged also that "some people on the domestic internet had voiced their dissatisfaction over the criminal investigation into Wang Xiaolu."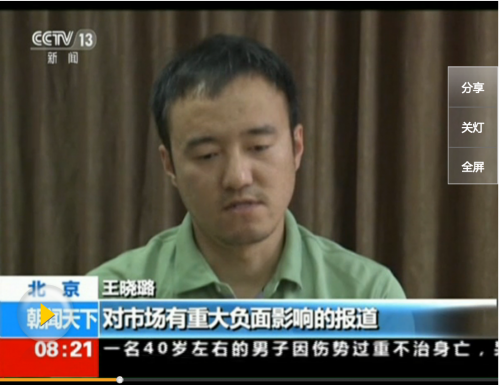 Wang Xiaolu appears on CCTV13's Morning News program on August 31, 2015. Here he begins to say: "I should not, at such a sensitive time, have released a report with such a major impact on the markets."
The
Global Times
article then sought to "clarify" a few points about Wang's arrest:
First, it is already the general consensus that the reasons for the recent turbulence in the stock markets are multi-layered and complex. The impact created by Wang Xiaolu's report should have been limited. As for the casting of Wang Xiaolu as the "scapegoat" for the stock market slide, or using him as to score points with public opinion, I am confident that the government isn't of this mind. Because clearly he cannot bear all of the blame. Conversely, if we suggest that the government is using his case to send a strong message to those who spread untruthful information, "executing one as a warning to others, this conjecture at least makes logical sense.
It is hardly reassuring to tell ourselves that Wang Xiaolu is not a scapegoat, but rather the chicken of Chinese proverb, murdered to frighten the monkeys. But I think, unfortunately, that the writer of the Global Times article is making a valid point here.
As the newspaper is careful to remind us, we still do not have all of the facts in Wang's case, and "the court will need to obtain evidence of his guilt before it can ultimately convict him." (Apparently, the Global Times cannot imagine his innocence). But I have little doubt that Wang's predicament will send a very strong message to Chinese journalists. And that is troubling news indeed, particularly given the already overbearing climate for media under Xi Jinping.
Let's not forget that in his televised "confession" on China Central Television — itself a chilling instance of flouted due process — Wang Xiaolu admits not to explicit illegalities, but rather to conduct befitting a news journalist.
Here is what he says:
Through a personal source, this abnormal channel, I gained news materials, then I added my own views, subjective views. And then I wrote this news report. I should not, at such a sensitive time, have issued a report that had such a major negative impact on the markets.
His timing was poorly chosen politically. He considered his scoop over broader issues of "sensitivity." And he has clearly also been coerced — despite the fact that his "subjective views" are ostensibly at issue — into making a highly subjective judgement about the impact his report might have had on the markets.
And where is the proof of that impact?
This is a story we will have to continue watching. But for now, it seems, we have only silence.