To Xi Jinping's growing list of titles as Chairman of Everything, add one more: Storyteller-in-Chief. In the five years since he became general secretary of the Chinese Communist Party in November 2012, Xi has authored no less than four books, including The Governance of China (the tome on his ruling vision that Facebook's Mark Zuckerberg made such a show of placing on his desk), Up and Out of Poverty (a collection of his writings through the 1990s), The Chinese Dream and the Great Rejuvenation of the Chinese Nation (which helps readers "come to understand the true nature of the Chinese Dream"), and the tenderly titled Knowing Deeply: Loving Keenly (a book of his writings from the early 1980s).
Search up Xi Jinping on Amazon and you'll find scores of other published volumes of his "important speeches." Perhaps the most entertaining is a volume commemorating, just in the nick of time, the 2,565th birthday of Confucius.
As China's top leader and chief messager, Xi Jinping is the custodian of the "China story" — the authorized version of how the country and its leadership wish to be perceived by us all. At his first national meeting on propaganda and ideology in August 2013, Xi said leaders needed to find new ways to "tell China's story well, and properly disseminate China's voice." More than a year later, at a foreign affairs work meeting in November 2014, he said that China "must raise our country's soft power, telling China's story well."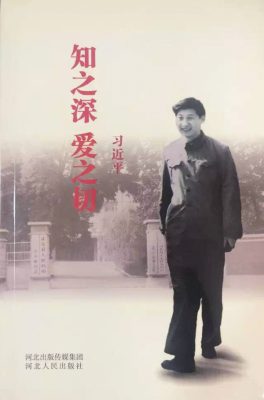 Knowing Deeply: Loving Keenly, a collection of Xi Jinping's speeches and writings from the 1980s.
The idea of the "China story" as a coherent narrative reflecting the Party-state agenda, as a product of centrally conceived "soft power," is not so new. The phrase appeared in the Party's official 
People's Daily
as early as 2004, and a 2010 piece in the newspaper under the pen name "Guo Jiping" (国纪平), short for "important commentary on international affairs," or
you guan
guoji de zhongyao pinglun
(有关国际的重要评论), was adamant that "
China's story must become a world story
."
But what distinguishes Xi Jinping,
or so we are told
, from the wooden general secretaries of the recent past, is his gift and penchant for the telling of stories.
Following the release in June this year of
Xi Jinping Tells A Story
(习近平讲故事), a collection of stories and parables drawn from Xi's public and private addresses, Yang Zhenwu (杨振武), the publisher of the 
People's Daily
, was dazzled by the profound messages Xi managed to get across through simple and relatable anecdotes:
Telling stories well has been a common characteristic of celebrated statesmen and thinkers in China and beyond since ancient times — and it is a clear characteristic of General Secretary Xi Jinping's leadership style. Whether in his conference addresses, in conversation during his inspection tours, in his speeches during his overseas visits, or in his printed articles, he proves to be adept in using stories to convey deeper meanings and to move people. Woven through these stories is the tao (way) of Chinese history and culture, the tao of Chinese reform and development, the tao of Chinese participation in global governance. They convey the general secretary's profound thoughts on internal and foreign affairs, on national security, on the governance of the Party, the nation and the military. They are concrete and vivid, relatable and profound, opening a window on the study of the spirit of [Xi's] series of important speeches.
Xi has said repeatedly that "telling stories is the best form of international dissemination" when it comes to telegraphing China's messages to the world. So how are Xi Jinping's stories faring beyond the captive audience of his own state media, and those fellow statesmen whose job it is to be obsequious?
While the "going out" of Chinese media and Chinese publishing remains an important priority for officials, much of it now wrapped up in the idea of "One Belt, One Road," there is little evidence that foreign audiences are buying — off the bookshelves, anyway — this line about Xi and the profundity of his visions. Despite the endorsement by Mark Zuckerberg, the English-language edition of Xi's The Governance of China is ranked #220,000 among books at Amazon; that compares, just consider, to a #107,391 ranking for Minxin Pei's latest, China's Crony Capitalism: The Dynamics of Regime Decay.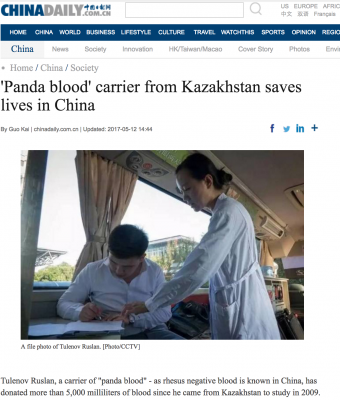 China Daily, published by the Information Office of the State Council, dusts off the Reslan blood donation story earlier this year.
As for those engaging yarns that we are told animate Xi's "important speeches," they tend to be played up by Chinese state media alone. One oft-cited example,
noted by Caixin two years ago in a piece on the president's storytelling chops
, came in a speech at Kazakhstan's Nazarbayev University in 2013. It was the story of Tulenov Ruslan, an exchange student from Kazakhstan who was said to have donated five liters of blood in China (not all at once, thankfully) after learning that his relatively scarce blood type, rhesus negative (known in Chinese as "panda blood"), was in urgent need.
Ruslan's sacrifice for the sake of the Chinese people was amplified across the various foreign channels of
China Daily
and Xinhua News Agency.
But it appeared nowhere else
.
As for "using stories to convey deeper meanings," we might inquire what message Xi Jinping's story of Kazakhstan blood sacrifice is supposed to convey. Couldn't the "panda blood" story actually come across as a crass yarn about China's demand for Kazakh oil and gas, implying that China's continued economic well-being requires that it 
sap Central Asia of its precious resources?
The problem with parables, you see, is that their meanings have to translate.
Which brings me to another core question when it comes to Xi Jinping's visibility as a global storyteller: Who is it that translates, prints and distributes the general secretary's stories outside of China? And when this does happen, is it a matter of appeal, or a matter of pulling strings?
In fact, if we dig a bit deeper into state media coverage of the president's latest collection, 
Xi Jinping Tells A Story
, we find interesting backstories that make the international release of the general secretary's profound stories seem a great deal more like vanity publishing on a grand scale.
Xi Jinping Tells A Story 
has recently been back in the headlines. The
People's Daily
reported on the front page of its September 19 edition that
close to 1.5 million copies of the book had been distributed
, and that it had been "widely praised." The praise, in fact, was a familiar rehashing of the kudos Xi received back in June. Xu Jiong (徐炯), a press control official in Shanghai, echoed the remarks of publisher Yang Zhenwu, saying Xi's book deftly used storytelling to convey "the way," or
tao
, of Chinese development.
Yang Jingjie (杨镜洁), a student at Beijing Foreign Languages University who attended a public discussion event for the book explained to those gathered that she had discovered in Xi Jinping's book the "golden key" to bring together China and the outside world, and she hoped that more and more young people in China would discover this key too, becoming "convincing tellers of China's story."
"A single story can beat out a dozen arguments," she said.
Finally,
the People's Daily noted
that as soon as the book had been released, "the renowned international publisher Springer contacted the People's Publishing House wanting to buy world English rights for the book."
Springer Nature 
confirmed in an e-mail to CMP that they "have signed a letter of intent with the People's Publishing House," but could not offer further details.
But
Russian and Japanese versions were also touted by Chinese state media 
as examples of the book's broad appeal.
Rights to the Japanese edition of
Xi Jinping Tells a Story
were reportedly snatched up by Duan Press (侨报社), which Japan's 
Kyodo News
has described as "a publishing house in Japan that specialises in books on Sino-Japanese relations, many of which are written by Chinese authors and translated into Japanese."
The publishing outfit is run by Duan Yuezhong (
段
跃
中
),
who founded it in 1999
. Duan has consistently over the past two decades published books in Japanese that mirror very closely the mainstream official view. He is
a regular guest appearing in Chinese official media
to discuss the challenge of "telling China's story in Japan," and the way he understands that story aligns perfectly with China's own external propaganda, to the point of parroting its latest official vocabularies. Currently,
the personal introduction on Duan's Weibo account
reads, in a nod to
a propaganda buzzword Xi Jinping introduced back in 2012
: "Gathering positive energy for China-Japan, spreading good voices for Japan-China."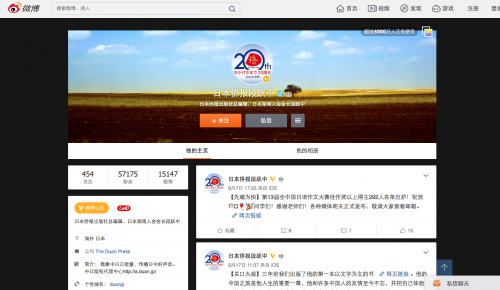 The homepage of Duan Yuezhong's Weibo account, with an introduction at bottom left invoking the Xi Jinping term "positive energy."
At a public signing ceremony two years ago, Duan and his press obtained the Japanese rights to a series of Chinese-language books including
both books published by New World Press (新世界出版社), a division of China International Publishing Group (CIPG), the central-level publisher responsible for the overseas distribution of Party and government publications as part of its overseas propaganda efforts.
 about recent Japanese releases, and interviewing Duan about his work promoting China's voice in Japan. Duan is apparently getting a lot of attention for its release of Chinese books onto the Japanese market — but this attention is coming almost exclusively from the familiar Chinese state media outfits, which makes this look very much like an inside job.
Russia is another interesting case of apparent self-dealing. At the Beijing International Book Fair (BIBF) in August,
was held in the exhibition area of the People's Publishing House, and it was announced that the Russian edition of Xi's book would be published by Chance International Group (尚斯国际集团).