At last month's 19th National Congress of the Chinese Communist Party, Xi Jinping demonstrated that he is at present the untouchable core of political power in China, like a great big spider sitting at the center of the Party's vast web. He has but to pluck at his fibers and his message will slavishly reverberate.
In CCP parlance, that message is referred to as the "spirit." The "spirit of Xi Jinping's important speeches," for example. Or, more recently, the "spirit of the 19th National Congress." If we look at how the "spirit" is being delivered and studied and enforced at the local level in China, this can help us better understand Xi's message.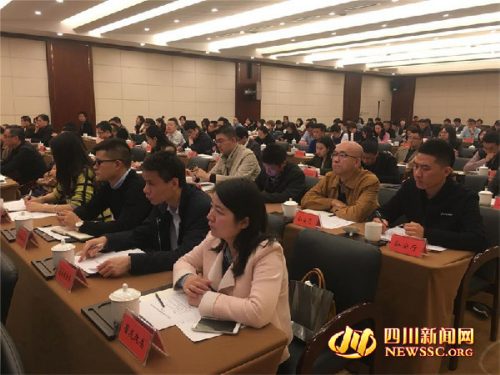 Cyberspace officials in Sichuan province attend a lecture series on the "spirit of the 19th National Congress" on November 16.
It is worth noting that as the "spirit" has recently been conveyed in study meetings on information and cybersecurity in Sichuan and Chongqing, the hardline term "public opinion struggle," or
yulun douzheng
(舆论斗争) has cropped up again. In an analysis in September 2013, following Xi Jinping's August speech that year on ideology,
CMP Director Qian Gang noted that this term, harking back to the Cultural Revolution, was "a dangerous sign."
On November 16, a team from the Cyberspace Administration of China arrived in Sichuan province to host an "
explanation lecture for the study and implementation of the spirit of the Party's 19th Congress
." Think of it as a propaganda roadshow. One of the key speakers at the event, attended by journalists and press officials, was Ruan Zongze (阮宗泽), acting vice-president of
the China Institute for International Studies
, a research institution attached to the Ministry of Foreign Affairs.
Ruan told his audience, according to a paraphrasal from the provincial government's official news site, that "properly doing cyber work in the new era requires holding the position, the main battlefield and the front line in the online public opinion struggle."
In keeping with what seems
a very clear CCP obsession in Xi Jinping's "new era,"
the news article noted that "during the 160 minute explanation lecture, the applause was constant."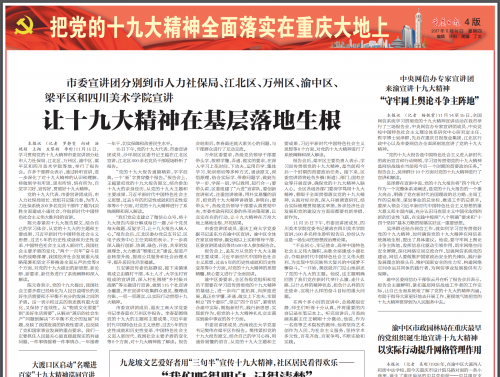 The November 16, 2017, edition of the official Chongqing Daily runs an article under the headline "Firmly Grasping the Main Position in the Online Public Opinion Struggle" (at right).
The provincial meeting in Sichuan was preceded by an identical series of "explanation lectures" in Chongqing, held on November 14 and 15, in which Wu Zequn (吴泽群), the director of the Central Party School's Research Center for the Theoretical System of Socialism With Chinese Characteristics (and, the article noted, a "PhD in philosophy"),
The officials of the cyberspace administration and its local agencies, he said, are "the pioneers in protecting national political security."