According to a report this week from China's official Xinhua News Agency, the Central Committee of the Chinese Communist Party has approved the creation of 10 special research centers devoted to "Xi Jinping Thought," the top leader's brand new "banner term," or core political ideas and legacy, introduced at the 19th Party Congress back in October.
Xi's full banner phrase is the rather less catchy "Xi Jinping's new era thought of socialism with Chinese characteristics" (习近平新时代中国特色社会主义思想). But in much state media coverage, including coverage announcing the new research centers, this banner has been shortened to "Xi Jinping Thought."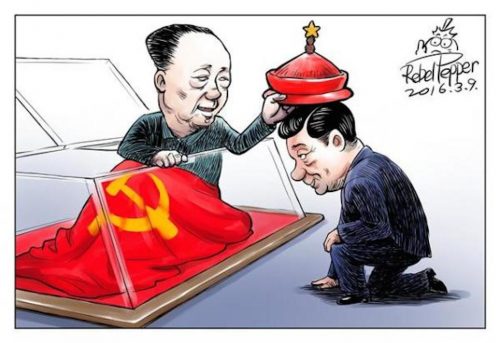 Political cartoonist Rebel Pepper depicts Xi Jinping's symbolic "crowning" by imagining the embalmed body of Mao Zedong resting in state reaching out of his crystal coffin to transfer the red crown of officialdom to Xi.
As CMP has noted previously, Xi Jinping's "crowning" (or use of his name) in his banner term is a significant development, and the attachment of "thought" to his banner term indicates an even higher profile, arguably equal to that of Mao Zedong.
Xinhua reports that the research centers for Xi Jinping Thought will be located at the Central Party School, the Ministry of Education, the Chinese Academy of Social Sciences, the National Defense University, Beijing Municipality, Shanghai Municipality, Guangdong province, Peking University, Tsinghua University and Renmin University of China. The 10 centers, said the report, "all have robust research capacity and very strong research teams, and will certainly play an important role in researching, propagating and explicating Xi Jinping's though of new era socialism with Chinese characteristics."
I'm sure I speak for everyone when I say we just can't wait.
In the wake of the 19th Party Congress,
many universities have reportedly been angling for their own Xi Jinping Thought research centers
, and this first group of 10 is almost certainly just the beginning. And of course, even those universities that do not yet have approved research centers are eagerly arranging for study sessions, conferences and propaganda events to study the "spirit" of the 19th Party Congress and display their loyalty to Xi. Yesterday's edition of
Guangming Daily
, the official newspaper of the Central Propaganda Department,
carried a report about such events at Shanxi University
.