Chinese state media reported today that Shen Haixiong (慎海雄), chief of Guangdong's provincial propaganda department, has been appointed as the new director of China Central Television, the state-run television network. Shen replaces Nie Chenxi (聂辰席), a former deputy director of China's broadcast regulator, the State Administration of Radio, Film and Television, and vice minister in the Central Propaganda Department.
According to The Paper, a publication based in Shanghai, the decision to appoint Shen as head of CCTV was announced today at a network leadership meeting (领导干部会议) attended by officials from the Organization Department of the CCP and by senior propaganda department leaders.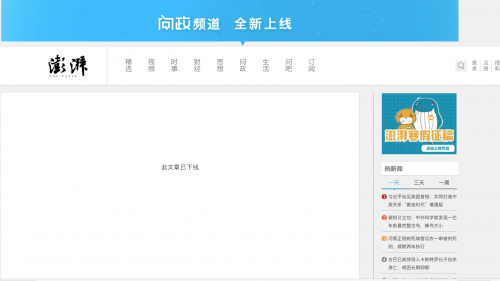 Coverage of the appointment of Shen Haixiong as head of CCTV is missing at The Paper, a Shanghai-based online publication.
While the report from
The Paper
was quickly pulled, yielding a message that said it had "already gone offline," a report citing
The Paper
was still carried on the website of
The Beijing News
as of 7PM Beijing time. That report highlighted Shen's 26 years in various posts at Xinhua News Agency, including "senior reporter" and editor-in-chief, after which time he was sent to Guangdong to become a member of the provincial Party committee and minister of propaganda — finally serving in October last year as a delegate to the 19th National Congress of the CCP.
So far little information is available about the reasons for the change at the top of CCTV, and news of the move is apparently being suppressed by some outlets while remaining on others. Coverage at
The Paper
remains offline, and a post made earlier today at Sina.com now yields a "Page Not Found" notice. One of the earlier sources for the story as
reported by Hong Kong media
was a post to the official WeChat account of
News Frontline
, a media-related publication associated with the Party's official
People's Daily
newspaper. But posts on Weibo seem to be automatically resulting in deletions, as in the case of the following two posts:
1. 
Guangdong Party Committee member and propaganda minister Shen Haixiong is appointed director of China Central Television
2018-02-02 15:32:32 | 广东省委常委、宣传部长慎海雄,担任中央电视台台长。 ​
2.
[Major personnel changes at CCTV: Shen Haixiong to Serve as Director] Today (February 2) in the afternoon, CCTV held a leadership meeting, with Organization Department and Central Propaganda Department leaders participating. At the meeting it was announced that Shen Haixiong was to serve as director of China Central Television, becoming the 12th director since the network was founded, replacing Nie Chenxi. Shen Haixiong was previously a member of the Guangdong Party Committee and [provincial] minister of propaganda.
2018-02-02 15:19:09 | 【央视重大人事变动:慎海雄接任台长】 今天(2月2日)下午,中央电视台召开领导干部会议,中组部、中宣部领导参加。会上宣布,慎海雄就任中央电视台台长,成为央视建台以来的第12任台长,聂辰席卸任。慎海雄此前为广东省委常委、宣传部部长
A report from Caixin, based partly on the original post on the News Frontline WeChat account, noted that Shen Haixiong had taken the place in Guangdong left by the departure in August 2015 of Tuo Zhen (庹震), the official best known outside of China for the role he played in the Southern Weekly incident in January 2013 — including allegedly penning a New Year's greeting that closely echoed Party ideology and drew the ire of staff at the respected newspaper. Tuo Zhen left Guangdong in 2015 to take up a new post as a deputy minister of the Central Propaganda Department.
"By coincidence," Caixin wrote, "both of the provincial propaganda ministers serving consecutively, Tuo Zhen and Shen Haixiong, have been sent there from positions as deputy directors (副社长) of Xinhua News Agency, then been returned to Beijing to serve in the propaganda apparatus."