Zhou Xiaoping's praise for Xi Jinping was never faint, but his enthusiasm may have damned him nonetheless. The young internet writer, once praised by state-run Chinese media as a great disseminator of "positive energy," or zhengnengliang (正能量), through his professions of love for China and a profound sense of grievance directed toward the West, seems now to be fading into the wings.
A report on March 22 noted in an otherwise unremarkable account of the minutes of a conference of the Sichuan Online Writers Association held the previous day that "[the] conference accepted Comrade Zhou Xiaoping's resignation as chairman of the Sichuan Online Writers Association."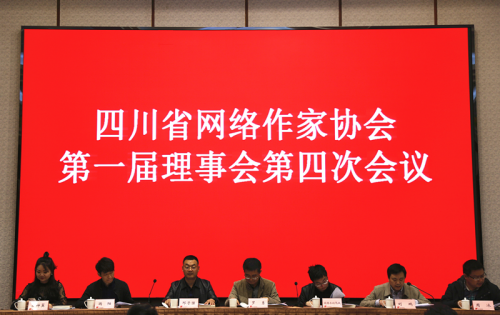 Zhou Xiaoping is absent from the leadership at the March meeting of the Sichuan Online Writers Association.
By March 24, this detail about Zhou's resignation had risen to the headlines at Shanghai's 
The Paper
, and from there was re-posted to other prominent news sites like
Sina
and
QQ
. But beyond a suggestive wink to readers there was no attempt inside China to flesh out the story, a fair indication of its sensitivity. Editors merely bolded the above-mentioned line from the original report on the conference, trusting that readers would infer its significance.
Before long, however,
Chinese-language media outside of China had offered a credible explanation
for Zhou Xiaoping's not-entirely-unexpected exit: his close connection to ousted internet czar Lu Wei.
Lu, once the confident face of Xi Jinping's elbows-out approach to the control of cyberspace as head of the new Cyberspace Administration of China, was placed under investigation in November last year for "severe discipline violations." This news was followed months later, in February,
by a notice from the Central Commission for Discipline Inspection
that was unusually harsh in its characterization of Lu's alleged crimes, saying that he had "lacked shame" and "traded power for sex," that he had been "domineering" and "cruel in his work style," and the ignominious list went on.
Lu Wei's star had burned out quickly. And his was the star to which Zhou Xiaoping had hitched his wagon. It was
likely Lu's stunt to arrange for Xi Jinping to single out Zhou Xiaoping
 for praise during 
the 2014 Beijing Forum on Literature and Art.
 At that event Xi laid out his vision of the arts as a vehicle for morally uplifting messages that put the Chinese Communist Party at the center of that morality. "Art and culture will emit the greatest positive energy,"
said Xi
, "when the Marxist view of art and culture is firmly established and the people are their focus." To Zhou Xiaoping and Hua Qianfang (another online writer known for his nationalistic paeans) Xi said, shaking hands after the forum: "I hope you create even more works of positive energy." The scene was
 referred to repeatedly in official television newscasts
.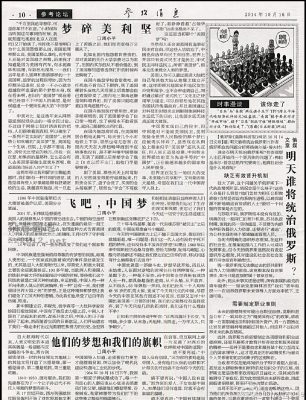 Zhou Xiaoping's writings appear in Cankao Xiaoxi in October 2014.
In the wake of the forum, Zhou Xiaoping enjoyed a torrent of state media coverage, including
an exclusive interview with the People's Daily
, and publication of his online writing in Reference News, a daily published by the official Xinhua News Agency. Selected pieces often bore overwrought titles like, "
Fly, Chinese Dream!
" — this being Zhou's recollection of the May 1999 bombing of the Chinese Embassy in Belgrade by American bombers ("The gun barrels of the Americans," Zhou wrote, "have always pointed directly at the heads of all Chinese.")
Zhou Xiaoping earned the nickname "sunshine boy," or
nuannan
(暖男) — derived from Chinese internet slang for a young man who, like the sunshine, instills people with feelings of warmth — following one of his most famous pieces, titled, "A Sunshine Boy for His Mother Country" (
我待祖国如暖男
). When
the Sichuan Online Writers Association was founded in June 2015
, part of a nationwide movement to bring online writers into the Party-led fold represented by the dominant China Writers Association, Zhou Xiaoping seemed the ideal public face for the new organization.
But the "positive energy" emitted by Zhou and other fiery and attention-seeking young nationalist writers online soon became a headache. Zhou's ardent, boot-licking expressions of national love were a lightning rod for criticism. According to some accounts, they were viewed as ineffective propaganda, embarrassing and counterproductive — or worse, as active
attempts to undermine Xi Jinping through "high sarcasm,"
or
gaojihei
(高级黑).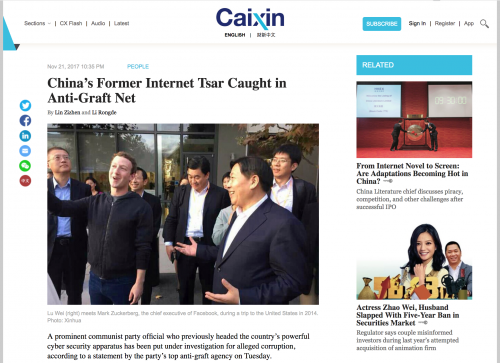 A November 2017 report from Caixin Global on Lu Wei's anti-graft case includes a picture of Lu's 2014 visit to Facebook headquarters.
If Lu Wei is the tiger's head in the old Chinese saying about aggressive beginnings and effete endings (虎头蛇尾), then Zhou Xiaoping is the snake's tail, quietly slithering into the darkness. The propaganda blitz surrounding "positive energy,"
Some wryly predicted such an end for Zhou even at the moment of his rise. As former CMP fellow and blogger
Goodbye, sunshine boy.