Messaging from US President Donald Trump on trade and China continues to be a sensitive area on Chinese social media, prompting deletion of posts on Weibo. In an interview with CNBC this week, Trump told "Squawk Box" host Joe Kernen that he was prepared if necessary to impose tariffs on all of China's imports to the United States — citing the figure of 505.5 billion US dollars for 2017.
Sharing a link to this story in Chinese today, Feng Wei (冯玮), a professor of history at Shanghai's Fudan University, who has more than 167,000 fans on Weibo, offered three observations:
2018-07-21 12:14:45 | 【Trump Prepared to Impose Tariffs on 505 Billion in Chinese Imports】Assessment: 1. This shows that Trump anticipates that China will not make concessions that satisfy him, and so the big door to negotiations is closed; 2. 505 billion concerns China's entire manufacturing industry, its effect underestimated; 3. I fully oppose the harm done by the careless puffing of those so-called "experts" who are an abuse of public funds. It's already clear, and the lessons are profound! http://t.cn/RgQJN43 ​
2018-07-21 12:14:45 | 【特朗普准备对5050亿美元中国进口商品开征关税】评:1、此举显示,特朗普判断中国不会作出令他满意的让步,因此关闭谈判大门。2、5050亿将涉及中国涉美所有加工制造业,影响低估。3、我始终反对的那些滥用国帑胡乱吹的"专家"的危害,已经显现,教训深刻!http://t.cn/RgQJN43 ​
Feng was presumably referring in his third comment to experts in China who have downplayed the impact of trade tensions with the United States, and played up Chinese strengths. In any case, his post, made at around 12:15PM Beijing time, had been removed by approximately 3:39PM.
Similar posts by Phoenix TV commentator Song Zhongping (宋忠平), with over 9 million fans, and from the official Weibo account of Hong Kong Economic Daily (香港商報), were also removed today.
Trump's July 15 remarks to CBS Evening News anchor Jeff Glor, in which he answered a question about the United States' biggest "foes" — apparently not understanding the difference between foe and competitor — were also among the deleted posts on Weibo. In that interview, Trump said "China is a foe economically, certainly they are a foe."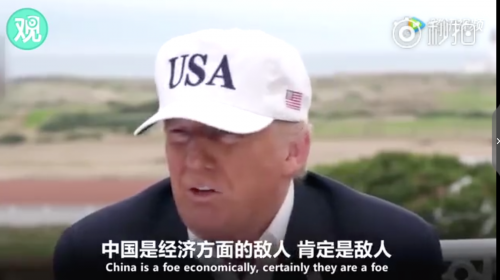 Screenshot of Trump interview with CBS Evening News, shared by Miaopai on Weibo.
At 2:46PM Beijing time today, Weibo user Dan Bin (但斌), a corporate executive with close to 12 million followers, shared a video link to the Trump interview, which he had posted to Weibo's video channel. "Trump directly explains his views on trade," Dan Bin's post said. It was deleted in less than an hour, by 3:35PM,