China's so-called "WeMedia," or "self media" (自媒体), publications and platforms launched on the WeChat service, lead our list of top media stories this week. The first "WeMedia" story concerns the shutdown of Iceberg Institute (冰川思享库), a platform launched by a group of professional journalists offering original content on politics and current affairs. Apparently prompted by critical coverage of Chinese "misreadings" of the United States in light of the ongoing "trade war," this shutdown is the second the platform has faced in its history.
The second "WeMedia" story deals with what was at the start of August a local propaganda story in Shandong about the life-transforming potential of a village business raking in advertising income by harnessing a team of young rural women repurposing online content, such as popular dramas, to produce eye-catching entertainment. By month's end, the "WeMedia village" in Shandong became the focus of national attention, and national criticism, for its "content laundering" behavior, and by September 1 the operation had reportedly closed its doors. [ABOVE: Screenshot of Li Chuanshuai, the young man who founded the business in "WeMedia village," in an interview by Shangguan Video following national criticism of their work.]
Also this week, news of the pending closure of what was once a mass-circulation print newspaper, the Beijing Morning Post. Another nail in the coffin of print media in China.
THIS WEEK IN CHINA'S MEDIA
August 25 to August 31, 2018
➢ Iceberg Institute WeChat Account Shut Down / Speculation that the Order Relates to Coverage of the US-China Trade War
➢ Shandong's "WeMedia Village" Shuts Down After Becoming Focus of National Attention
➢ Coverage Turns Attention to Demeaning of Women in QQ Chat Groups for Didi Drivers
➢ CAC Launches National "Rumor-Busting Platform"
➢ Beijing Morning Post to Cease Print Publication
[1] Iceberg Institute WeChat Account Shut Down / Speculation that the Order Relates to Coverage of the US-China Trade War
On August 28, word spread through social media in China that the Iceberg Institute (冰川思享库), a publication focused on politics and current affairs, had once again had its account on WeChat closed down. The account page carried a notice that read: "After complaints from users and a review of the platform; [it is determined that the platform] violates the 'Interim Provisions on the Administration of the Development of Public Information Services Provided through Instant Messaging Tools,' an order has been issued for the blocking of all content, and use of the account has already ceased."

Speculation online in China has pointed to the platform's publication of an article about the US-China trade war, "
What We Previously Understood Was Possibly a Fake America"
 (我们之前了解的可能是一个假美国). The article argued that the United States and China are already locked in a bitter trade dispute, and that the United States is coordinating with Japan and Europe to contain China with a long-term trade war strategy. But while many Chinese experts are lured into the fantasy that this is a short-term problem linked to the Trump presidency, said the article, this is in fact not the case, and China has fundamentally misread America and the nature of the relationship.
The Iceberg Institute was launched on WeChat in March 2016 by five veteran Chinese journalists, including Chen Jibing (陈季冰), Lian Qingchuan (连清川), Wei Yingjie (魏英杰) and Ren Dagang (任大刚). Almost all of the platform's content was original, and much of it was commissioned form external writers. This is the second time the Iceberg Institute has had its account blocked.
Founder Chen Jibing said in response
to the shutdown: "As to how such thoughtful commentary can be done more appropriately in the future, I will have to think very carefully. But this much is certain, there is no way forward with the past model."
KEY CHINESE SOURCES:
WeChat Public Account "Mei Tong She" (微信公众号"媒通社"):
知名公号"冰川思享库"被永久屏蔽
WeChat Public Account "Nan You Quan" (微信公众号"南友圈"):
头条|"冰川思享库"被永久封号,对话创办人陈季冰
WeChat Public Account "Shang Xue Yuan" (商学院):
可能我们之前了解的是一个假美国
[2] Shandong's "WeMedia Village" Shuts Down After Becoming Focus of National Attention
Back in early August,
official Party media in Shandong province
turned attention, and praise, on a business in the "ordinary small village" of Limiao that was transforming the lives of local rural women by involving them in the production of content for social media platforms.
The business, "Boyan Cultural Communication Co. Ltd." (济南薄言文化传播有限公司), started by a twenty-something returnee named Li Chuanshuai (李传帅), employed more than 20 young rural women, who scoured the internet for interesting entertainment content to post to the scores of WeChat public accounts operated by the company. Often, they posted short videos cut and edited from the latest popular TV dramas, to which they added their own comments. Sometimes they also posted small videos about village life. Their posts would carry online advertisements, allowing the company to earn income depending on the number of views the post received. Average July income for these women was 7,594 yuan, higher than the average income in Shanghai, and Li Chuanshuai reported personally making more than one million yuan over the past year.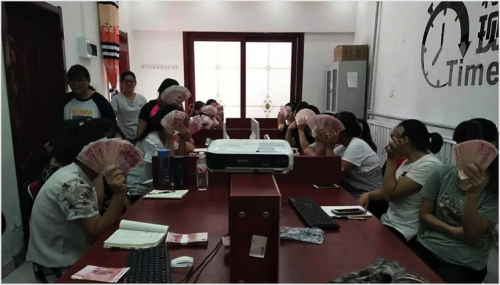 On August 25, 2018, workers in Shandong's "WeMedia village" receive their wages, and spread them out like fans. SOURCE: Hedgehog Collective.
This week, coverage by WeChat-based publications turned a more critical eye on the Li Chuanshuai's content operation in Shandong, with devastating consequences for the "WeMedia village."
In an August 27 report called, "
An Onsite Exploration of Shandong's WeMedia Village, Rural Women Make Incomes of Over 10,000 Doing WeMedia
" (实地探访山东新媒体村,农妇做自媒体收入破万), "Hedgehog Collective" (刺猬公社) shifted the story to one about "Shandong's WeMedia village" (山东自媒体村) to one about "a rural base for content laundering" (农村洗稿基地). Li Chuanshuai's business model came under greater scrutiny, sparking a national conversation about the larger degradation of content quality and reading habits through the single-minded pursuit of attention and profit. By August 31, the
official People's Daily had weighed in on the matter
through its own WeChat public account, writing that the flood of low-quality content had become a "deep-seated disease that must be dealt with in the development of WeMedia."
Back in Limiao, the pressure of media attention was already affecting Li Chuanshuai's operations. According to
AI Finance and Economics
on August 30: "Before the young women were all smiles, but in the past few days they have grown silent, and several young women around 18 and 19 have already left the operation out of shame."
News reports on September 1
quoted Li Chuanshaui as saying that the office in Limiao Village had already been shut down.
KEY CHINESE SOURCES:
WeChat Public Account "Hedgehog Collective" (微信公众号"刺猬公社"):
实地探访山东新媒体村,农妇做自媒体收入破万
WeChat Public Account "AI Finance and Economics" (微信公众号"AI财经社"):
亩产10万+
WeChat Public Account "People's Daily Commentary" (微信公众号"人民日报评论"):
农妇做自媒体月入破万,内容创业该何去何从? | 睡前聊一会儿
[3] Coverage Turns Attention to Demeaning of Women in QQ Chat Groups for Didi Drivers
After
news emerged of the rape and murder on August 24 of a 20 year-old woman
using the Hitch carpooling platform operated by ride-hailing service Didi Chuxing — the second such case since May this year — the company was ordered by regulators in China to
overhaul its vetting procedures
, and the company suspended its carpooling platform indefinitely and issued a public apology.
On August 30, People's Daily Online and other media reported that "Didi Driver Chat Groups" (滴滴司机群) on QQ in many cities, including Wuhan, Shenzhen, Shijiazhuang, Yantai, Kunming and Fuzhou, contained posts that were demeaning to women and "relished in the fate of victims." A police notice issued on August 27 said that those responsible for the posts had already been taken into custody.
KEY CHINESE SOURCES:
People's Daily Online (人民网):
滴滴群侮辱乐清遇害者 多人被拘 警方:网络不是法外之地
The Paper
(澎湃新闻网):
十城约谈滴滴:深圳将断网列入惩罚措施,武汉开查司机聊天群
Chutian Metropolis Daily
(楚天都市报):
疑似武汉滴滴司机群聊曝光,滴滴表示将配合相关机关依法处置
[4] CAC Launches National "Rumor-Busting Platform"
On August 29, the "Illegal and Harmful Information Informant Center" (违法和不良信息举报中心) of the Cyberspace Administration of China
formally launched a new online "rumor-busting platform"
(辟谣平台). The platform features a range of specific pillars, including "ministry releases," a regularly updated list of rumors refuted by various government departments and ministries, "local responses" (地方回应), which debunks rumors emerging in cities and provinces, and "media verification," which addresses allegedly erroneous reports in the media. Much of the content listed so far on the site's various sections seems to overlap, and in nearly all cases the rumors are refuted by official government sources and police.
Rumors on the site dealing with politics seem to be primarily focused on cases of so-called "historical revisionism" (历史虚无主义) and language seen to be attacking Party martyrs and heroes, both issues that have been priorities under Xi Jinping.
KEY CHINESE SOURCES:
China Joint Internet Rumor-Busting Platform (中国互联网联合辟谣平台):
SITE HERE
People's Daily
(人民日报):
中国互联网联合辟谣平台正式上线
[5] Beijing Morning Post to Cease Print Publication
A recent notice from the Beijing Post has revealed that
the Beijing Morning Post
(北京晨报), , a commercial newspaper published by the Beijing Daily Newspaper Group since TK, will cease its print edition at the end of the year, and subscriptions will no longer be available for 2019. News reports have said that plans have long been in the works to cease print publication, and arrangements have been made for employees to be redistributed to other newspapers and websites. On September 1, reports on the story by
The Paper
,
Jiemian
and other media were removed by the authorities.
On January 1, 2017, another major Beijing commercial newspaper, the
Beijing Times
, suspended publication. On August 21, 2018, a post to the WeChat public account of the Beijing Times revealed that the account would be transferred to "Capital News" (长安街知事), a WeChat public account operated by
Beijing Daily
, the official mouthpiece of the city's top Party leadership.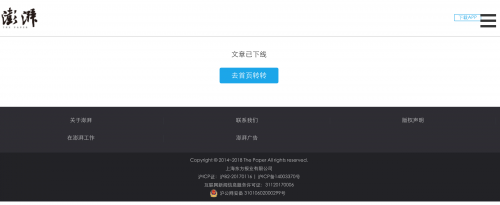 A Google search showing a report from The Paper on the closure of Beijing Morning Post, followed by a notice that the article is already offline.