Over the weekend we had another quasi-official Chinese voice commenting on the Victor Mallet visa case in Hong Kong, in the form of a page-four piece in the overseas edition of the People's Daily. We say quasi-official because the overseas edition is more peripheral relative to such central Party media as Xinhua News Agency and the flagship People's Daily newspaper, both of which might be considered more closely reflective of the leadership's position.
China's media approach to the story at present continues to be entrusting the response to the Hong Kong government, to pro-Beijing members of LEGCO, and to pro-Beijing newspapers like the Ta Kung Pao and the Wen Wei Po, both of which are controlled by the Liaison Office of the Central Government.
The following piece, published on Saturday, offers a brief "background" on the Mallet case, and then includes a series of comments from pro-Beijing Hong Kong politicians and media, mostly emphasizing issues of national sovereignty and national security.
_______________________________________________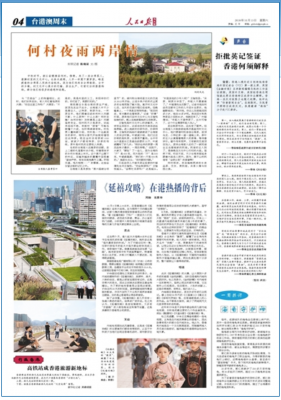 Why Should Hong Kong Explain Not Issuing Visa For British Journalist (Voices)
People's Daily Overseas Edition / October 13, 2018, page 04
Background: In recent days the Hong Kong Immigration Department denied a visa to FCC executive vice-president Victor Mallet, Asia News Editor for the British Financial Times newspaper, after which the Foreign & Commonwealth Office and the US Consulate in Hong Kong demanded that the Hong Kong SAR Government offer an explanation. A number of opposition party forces in Hong Kong were thereupon stirred into action, criticizing this matter as "harming press freedom" (伤害新闻自由). In Hong Kong, Mallet went against the opposition of the SAR Government in inviting a "Hong Kong independence" advocate to speak at the FCC.
"First, the immigration policies of the Hong Kong Special Administrative Region are within the scope of our autonomy under the 'One Country, Two Systems' arrangement; Second, the Immigration Department makes a determination for each individual case under current laws and policies; Third, it is consistently our policy not to comment publicly on or explain, or make justify individual cases handled by the Immigration Department, and everyone should know that this general practice internationally. The Hong Kong SAR Government will not tolerate any promotion that advances the interests of "Hong Kong independence," damaging national security or territorial integrity."
— Hong Kong Chief Executive Carrie Lam (林郑月娥)
"For any region, it is absolutely impossible that there exist a situation in which any foreign must be issued a work visa without conditions. Moreover, in this recent situation we have a person showing utter contempt for China's national sovereignty and security, willfully engaging in conduct that damages China's sovereignty and security. This being the case, [he] must bear the consequences."
——Hong Kong's Ta Kung Pao (大公报)
"In fact, Britain and the United States often prevent foreign nationals from entering their countries without providing justification. There are myriad such cases, and those denied have included students, professionals, businesspeople and even politicians. What links all of these cases is the fact that Britain and the United States have not comment on each situation. And now they expect the Hong Kong SAR Government to break with convention and provide an explanation in the Mallet case. This clearly is a failure to hold oneself to the same standard one holds others.
——Hong Kong's Wen Hui Pao (文汇报)
"Those working, traveling or studying in Hong Kong must abide by the laws of Hong Kong. Relevant laws clearly cannot be used to [defame]颠覆, to damage the foundation of national sovereignty and national security, and any person regardless of what channels they use to reach Hong Kong, must abide by relevant regulations. The reasons and motivations of opposition party representatives in demanding the government provide an explanation do not hold water. Denying a visa to these people who damage national security is a completely separate matter to the preservation of freedom of expression, and these must not be confused. The majority of Hong Kong citizens will support the methods of the government.
——Hong Kong Representative to the Chinese People's Political Consultative Conference, Tu Haiming (屠海鸣)
"For certain opposition parties to discuss this incident as an attack on 'freedom of expression' and 'press freedom' completely lacks reason. The denial of a work visa to Mallet is a decision legally taken by relevant Hong Kong departments according to laws and procedures, and it should not be politicized. Every day there are hundreds or thousands of foreign reporters working freely in Hong Kong, and the press freedom of the Hong Kong news media has not at all been affected.
——LEGCO Member Leung Che-cheung (梁志祥)
"The Foreign Correspondents Club previously ignored the advice of the Central Government and the SAR Government, going their own way and insisting on inviting the convener of the 'Hong Kong National Party' to their lunch talk, providing a platform for promoting the idea of 'Hong Kong independence' in various circles and internationally. This was a show of extreme disrespect for China's national sovereignty and security. If such an event were to happen overseas, how would foreign governments welcome these sorts of people?
——Chairman of Hong Kong Thinkers Wilson Or Chong-shing (柯创盛)