On November 20, the Wechat public account "Chang'an Jian" (长安剑), which translates as "Chang'an Sword," openly confirmed through a simple act of rebranding what many have long suspected — that it is in fact an official account operated by the Central Political and Legal Affairs Commission (中央政法委), the body directly under the Chinese Communist Party taking charge of political and legal affairs. More specifically, the purpose of the commission, and its local and regional affiliates, is to implement Party policy in and among legal institutions — and its operations have been most visible in major initiatives such as crackdowns on organised crime. [Featured Image: Secretary general of the Central Political and Legal Affairs Commission, Chen Yixin.]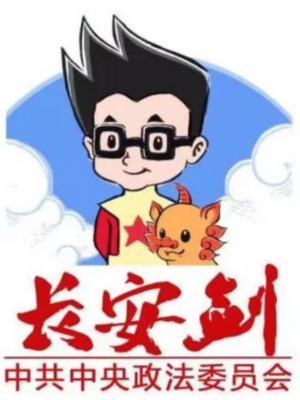 The new logo of "Chang'an Sword" proudly announces its association with the powerful Party commission.
Reporting that the"Chang'an Sword" public account had changed its name to "Central Political-Legal Commission Chang'an Sword" (中央政法委长安剑), directly linking itself to the powerful office,
the official China News Service said
that "in three years of operation, this is the first time [the account] has made its identity openly known to the public, and the long-time guesses are now confirmed."
Party and government organs in China have redoubled their efforts to establish a strong presence on social media platforms over the past few years, part of a broader shift of official information channels into the age of mobile media.
In a Christmas Day speech in 2015,
during a visit to the People's Liberation Army Daily
 (and several months ahead of a major media address in which he said media "must be surnamed Party" and serve the leadership), President Xi Jinping said the state must capitalise on changes in the media landscape. "Right now, media patterns, the public opinion ecology, target audiences and communication technologies are all undergoing profound change ," he said, "and the internet in particular is driving a transformation in the media sector such as we have never seen before."
"Wherever the readers are, wherever the viewers are, that is where propaganda reports must extend their tentacles, and that is where we find the focal point and end point of propaganda and ideology work."
Xi's remarks came as official public accounts on WeChat, Jinri Toutiao (今日头条) and other platforms were already proliferating.
According to Xinhua News Agency
, "Chang'an Sword" appeared on September 24, 2015. The account was positioned at the time as being "non-governmental" (民间身份), but reflecting an official position on political and legal affairs, with the stated goal of "promoting the spirit of rule of law" (弘扬法治精神).
Back in May this year, Chen Yixin (陈一新), secretary general of the Central Political and Legal Affairs Commission, created a stir online when
he outlined what he called "the Six Grabs
," or
liu ge zhua
(六个抓), referring to six areas where his office and its affiliates needed to focus their efforts. Chen's sixth grab, "grabbing Big Vs" (a reference to social media users with large fan bases), pointed to the need to develop trusted social media channels, on WeChat and other platforms, to share official information. When internet users read, however, that a top law-enforcement official was talking about "grabbing Big Vs," they mistakenly assumed the intention was to arrest influential account holders.
More comments from Chinese users on the recent unmasking of "Chang'an Sword" are
available at this Chinese-language post
.