December is just around the corner. That means the Chinese Communist Party is gearing up for the commemoration of the 40th anniversary of "reform and opening up," which formally dates back to the 3rd Plenary Session of the 11th Central Committee of the CCP,  held in Beijing from December 18 to December 22, 1978.
Yesterday, the Party's official People's Daily newspaper published a list of 100 names of people it deems to have made "outstanding achievements" (杰出贡献) in the course of reform and opening. The list, introduced with an invitation to readers to make their own nominations, includes many well-known business people, the likes of Alibaba founder and CEO Jack Ma (马云), and Tencent founder Pony Ma Huateng (马化腾).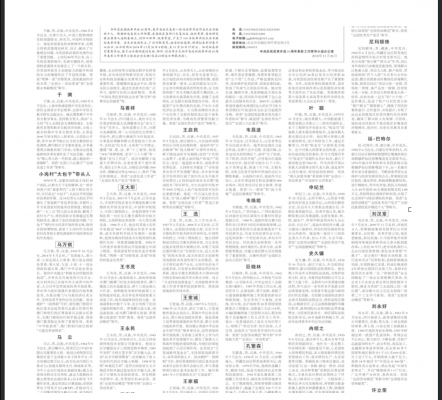 The listing for Jack Ma drew some raised eyebrows on social media and in both domestic and overseas media because it confirmed Ma's membership in the Chinese Communist Party, which has not previously been acknowledged. Many have long assumed Ma was probably unaffiliated — or perhaps even a member of one of China's consultative parties. Given Ma's visibility internationally as one of the most important faces of Chinese tech innovation and business success, his outing as a Chinese Communist Party member certainly makes for eye-catching news.
But another detail regarding the People's Daily list of "outstanding achievers" that drew the attention of Chinese was the fact that the list did not include Ren Zhengfei (任正非), the founder of Huawei, generally regarded as one of China's biggest global business success stories of the reform period. Huawei is today the world's largest manufacturer of telecommunications equipment, and just this year it overtook Apple to become the word's number-two manufacturer of smartphones.
How can the Party's flagship newspaper overlook the "outstanding achievements" made by Huawei and its chairman, Ren Zhengfei, currently ranked 83rd on Forbes' "China Rich List 2018"?
Some have speculated that this was an intentional act of concealment connected to recent difficulties in the US-China relationship. As a post on the Wechat public account "Zhi Gu Qu Shi" (智谷趋势) argued yesterday:
This makes one think of the previous ZTE crisis, and also strict controls recently announced by the US government on [Chinese] tech exports, and wonder whether the relevant departments [in China] didn't decide intentionally to hide [Huawei from this list] against the backdrop of US-China tensions? After all, Huawei's expansion in the US could at any time be seen as "state conduct" and then the US Committee on Foreign Investment might make things difficult.
Few would take issue with the assertion that Huawei has emerged as one of the most successful and innovative of Chinese private enterprises in the reform period. As for its alleged links to the government, there are so far little more than guesses, though such conjecture is sure to haunt Huawei as it might any Chinese company.
In fact, all of China's major enterprises are linked in countless ways to the government. When it comes to the accusation that this or that move on their part is "state conduct," Alibaba and Tencent are equally as vulnerable.
But we can say with some certainty that the People's Daily's publication yesterday of the 100-name list is a political wound in Huawei's side.
For Ren Zhengfei, absence from the list leads to one of two very uncomfortable conclusions. Either he is in the unfortunate position of accepting his lot as one whose efforts do not constitute "outstanding achievement" within the Party's reform and opening pantheon (a political indignity); or he must eat the bitter fruit of concealment, tacitly accepting his compromisingly close links with the government.
For reasons unclear, the list also excludes Hong Kong business magnate Li Ka-shing (李嘉诚) and economist Wu Jinglian (吴敬琏), both so conspicuous in their absences that storms of conjecture are inevitable.
This list, in short, is a lightning rod.
As China looks back, officially, across the expanse of reform and opening, what to conceal and how is of course an important question for the Chinese Communist Party. One of the most important figures sure to remain unacknowledged is of course Zhao Ziyang (赵紫阳), the 1980s premier whose name cannot be spoken.
China is now encountering a crisis of confidence, with public sentiment quietly in turmoil. Every misstep made by those in power pricks the nerves of society. Against this backdrop, the Party knows that it must tread carefully when it comes to the commemoration of the 40th anniversary of reform and opening, that it must tiptoe through the minefield and minimise all risks to itself. But there are, at the same time, plenty of foolish officials who glimpse an opportunity and act impulsively, becoming bulls in the china shop.
I haven't the slightest idea who conceived of this very public act of adulation in the People's Daily. Judging from the immediate results, however, it seems to have tossed a stone into the calm pool of public opinion, dividing society. One is reminded of the old saying: "The world might be free of trouble, if only fools would not go in search of it."