Canada's Globe and Mail newspaper reported yesterday that Meng Wanzhou (孟晚舟), the daughter of the founder of Chinese telecoms giant Huawei, Ren Zhengfei (任正非), has been arrested in Canada and faces extradition to the United States on suspicion of violating U.S. trade sanctions on Iran. Meng is also the deputy chair of Huawei, which in recent months has faced an international backlash over concerns the company is linked to the Chinese state and poses a security risk.
Precious little information is available still about Meng's arrest, which reportedly occurred on December 1, and Ian McLeod, a spokesman for Canada's Justice Department, told the Globe and Mail: "As there is a publication ban in effect, we cannot provide any further detail at this time. The ban was sought by Ms. Meng."
So far, Chinese mainstream media have been largely silent on the case. A handful of media have picked up an early news release from the official China News Service that closely follows the press release from the Chinese Embassy in Canada. That release registered strong protest, saying that Meng's arrest had "seriously harmed the human rights of the victim."
The China Daily, published by the Information Office of the State Council, released an article in Chinese earlier today quoting the official release from Huawei saying that Meng has done nothing wrong and they are confident there will be a fair result.
The official Xinhua News Agency did not release a report in English until around 5PM today Beijing time. That report again closely followed the remarks from the Chinese Embassy in Canada and the official Huawei release. As of 8:30PM Beijing time there was still no Xinhua story in Chinese carried prominently on the service's website, though far down the list of news was a transcript of the foreign ministry press conference.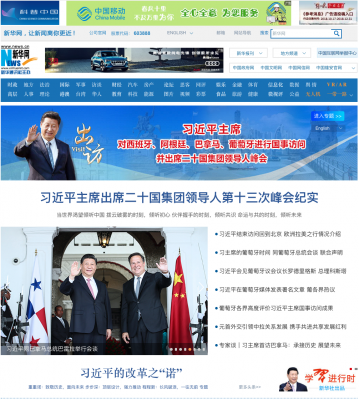 Xinhua was focused instead on Xi Jinping's trip to Spain, Portugal and Latin America, and on the 40th anniversary of China's "reform and opening" policy. No doubt the timing of the Meng Wanzhou story, coming less than two weeks ahead of the formal anniversary on December 18, will also be a point of great sensitivity for the Party leadership.
There are also stories on both on the Chinese and English sides of Caixin. Interestingly, though, while the English report is prominent on the Caixin website, the Chinese report was pushed lower down at around 4PM Beijing time, emphasising in the headline the fierce response from the Chinese Embassy in Canada — and two hours later that story was not visible at all on the Chinese homepage.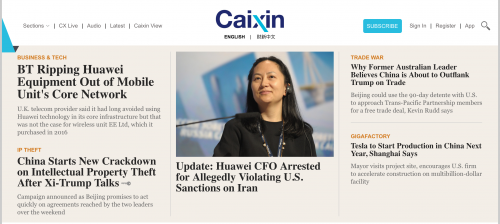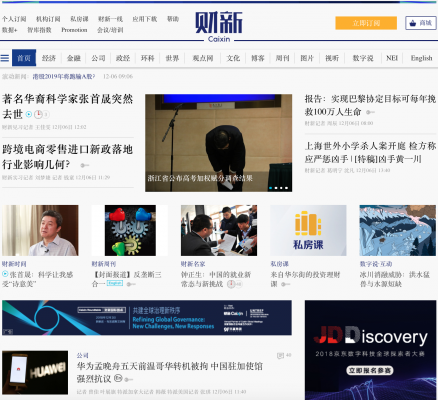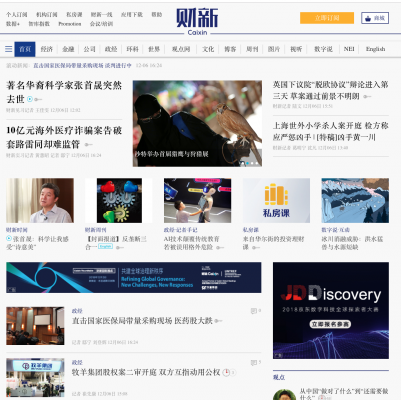 But lack of information on this breaking story, and relative silence from traditional and state-run media, cannot forestall the conversation in China. There has been a flurry of chatter and speculation on Weibo and WeChat, although of course that conversation is in a state of constant emergence and disappearance.
Here, courtesy of the Weiboscope, are a few of the more recent Weibo posts that have been removed, most dealing directly with the original report from the Globe and Mail.
2018-12-06 13:29:55 | #ImmigrantObvserver # MengWanzhou (Sabrina Wanzhou Meng) born 1972, is the daughter of Huawei founder and CEO Ren Zhengfei, and Meng Dongbo (孟东波), the father of her mother, Meng Jun (孟军), served as deputy governor of Sichuan province. She at the very least has Chinese, American and Canadian passports! ​

2018-12-06 07:31:11 | 【Meng Wanzhou, Daughter of Huawei CEO Ren Zhengfei, arrested in Canada] Canada's Global and Mail newspaper reported that the daughter of Huawei CEO Ren Zhengfei, Huawei's CFO Meng Wanzhou, has been arrested in Canada and faces extradition to the U.S. American law enforcement authorities have said that Meng Wanzhou is suspected of violating U.S. trade sanctions against Iran. http://t.cn/EyXG9Ao ​

2018-12-06 07:24:50 | 【Foreign Media: Ren Zhengfei's daughter and Huawei CFO Meng Wanzhou has been arrested in Vancouver】News, Beijing time, December 6. According to Canada's Globe and Mail, quoting Ian McLeod of Canada's Justice Department, Canada has arrested Huawei CFO Meng Wanzhou. http://t.cn/EyXbNi9 ​
A Weibo search for "Meng Wanzhou" directs readers to two posts from state media, one from CCTV Online and the other from the Global Times. The CCTV post is a short video relaying the response from China's Foreign Ministry calling on Canada and the U.S. to immediate release Meng and to "protect the legitimate rights of the person involved." The Global Times post similarly focusses on what at present seems right now to be the core message of the leadership: Meng must be immediately released.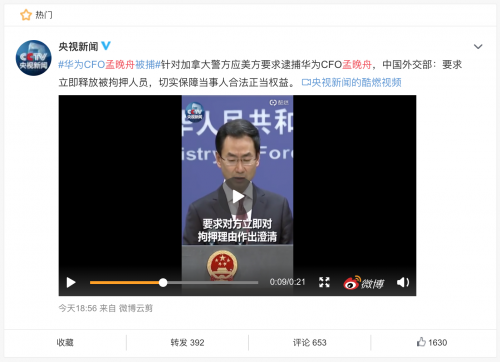 The battle by ordinary citizens and other non-official voices to have a say on the Meng case, over and against the official urge to control the development of the issue online, could be glimpsed openly on social media. In a post made around 8:30PM to Weibo, Zhu Wei (朱伟), an entrepreneur with more than two million followers on the platform, posted the following message:
This topic is so sensitive. The headline article on my WeChat public account "Teacher Zhu Wei" (朱伟老师), "Chinese Embassy in Canada: We Demand the Immediate Return of Meng Wanzhou's Freedom" was deleted by the relevant departments. Right now I'm reposting it on Weibo, so read it really quickly before it's gone.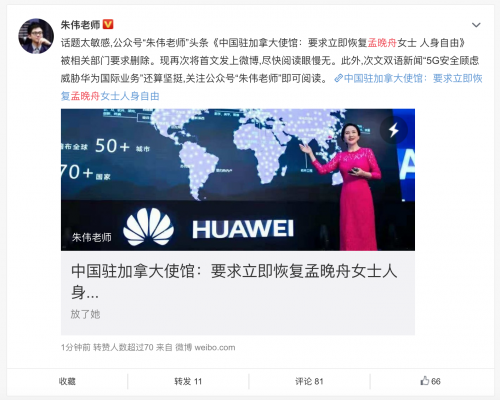 The article in question by Zhu Wei, still available on Weibo as of 8:46PM Beijing time, offered a rundown of the official statements from the foreign ministry and from Huawei, and then included a paragraph by paragraph translation of the original report from the Globe and Mail.
Another post from the Weibo account of the Putian Media Group (莆田广播电视台) offered readers a video from talk Meng Wanzhou gave in English on September 26 at the World Academic Summit in Singapore. The post, which bore the hashtag "#MengWanZhouArrested," noted that Meng's talk had been about "how to promote industry innovation." But the video was soon disabled, yielding the message: "We're sorry, this video cannot be displayed. Please view another video."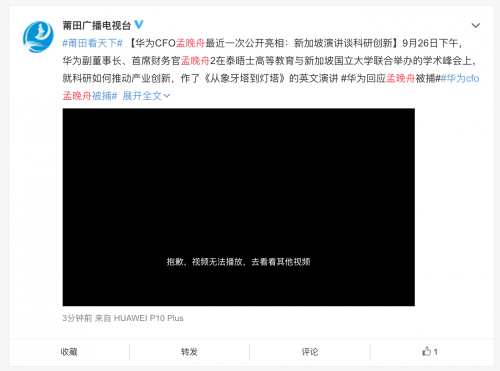 Some commenting on WeChat and other platforms voiced anger over Meng's arrest, viewing it through the lens of U.S.-China competition, as a provocative act and a sign that the United States and other Western countries want to keep China down, even stripping it of its "right to develop."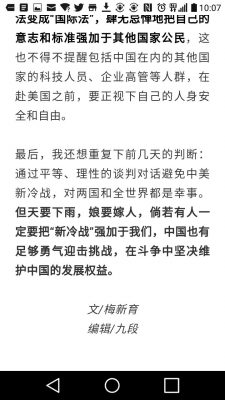 In a piece shared widely on WeChat, Mei Xinyu (梅新育), a financial writer with more than one million followers on Weibo, wrote:
Finally, I want to emphasise again the assessment I had a few days ago: through equal and rational dialogue a new cold war between China and the U.S. can be avoided, and this would be a great thing for both countries and for the world. But the sky rains when it wants to, and girls marry when the time comes, and if certain people insist on foisting a 'new cold war' upon us, China has sufficient courage to meet this challenge, upholding China's right to development in the midst of this struggle.