In a recent story titled "China is Burning Books Again," Foreign Policy addressed the growing problem of China's censorship of printed materials bound for markets outside China, an important but perhaps underreported aspect of the Chinese Communist Party's enforcement of its global narrative. The story quoted Jesse Covner, the American co-creator of a new crowd-funded roleplaying game, lamenting how authorities in Guangzhou had destroyed the entire print run of his game, The Sassoon Files. "I couldn't believe what I heard," Covner told FP. "I'd never heard of China's government getting involved with printing issues for export to foreign markets."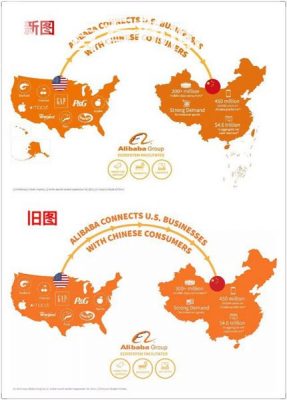 Even domestic companies can be guilty of "problem maps," as Alibaba Group knows only to well from its shaming over this map that left off the island of Taiwan.
But by all accounts, stories like Covner's are becoming commonplace, particularly as China occupies a bigger share of the global printing industry– over 10 percent — and as it recognizes its power to exercise such controls without repercussions. In the case of
The Sassoon Files
, the problem was apparently the mention of a historical figure, Victor Sassoon, a businessman with substantial interests in the foreign enclave of Shanghai in the 1920s and 1930s, despite the fact that there are no immediate sensitivities around the person of Sassoon.
But one of the most common areas of sensitivity has to do with political geography, and what the Chinese Communist Party regards as core issues of national sovereignty and territorial integrity.
I'm talking about maps.
Issues often arise with Chinese contract printers who take on overseas orders of books, posters and other printed merchandise that in some way suggest, even in the most indirect manner, that Taiwan, Tibet, disputed border regions with India and so on are not sovereign Chinese territory. Taiwan is left off of a map of China, or labeled Republic of China. If such "problem maps" are discovered in orders bound for export, their foreign destination is not regarded by Chinese authorities as an acceptable excuse. Quite to the contrary, they are seen as doing a great disservice to China's efforts to defend its national sovereignty and territorial integrity — seeds of dangerous misinformation.
China's sensitivity to these issues can result in pressure on international companies to censor or change material to reflect China's official view. Last year, the Marriott hotel chain came under harsh criticism from China after it listed Taiwan as well as Tibet and Hong Kong, as separate countries in its online system.
Last year hotel chain Marriott was strongly criticized by Chinese authorities for listing Taiwan — along with Tibet and Hong Kong — as separate countries, all regions which Beijing claims under its authority. Also last year,
the retailer Gap was pressured to apologize
after it released a Gap-brand T-shirt that showed a map of China excluding the island of Taiwan. "Gap Inc. respects the sovereignty and territorial integrity of China," the company said in a statement made to its Weibo account in China. "We've learned that a Gap brand T-shirt sold in some overseas markets failed to reflect the correct map of China. We sincerely apologize for this unintentional error."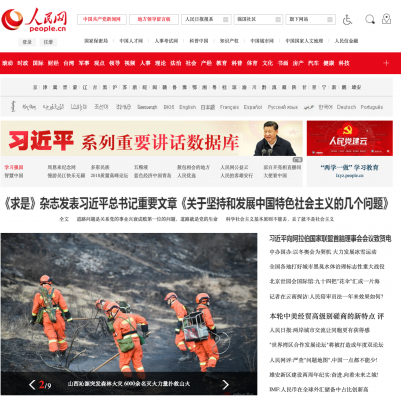 People's Daily Online recently ran an article on "problem maps" among the top news on its homepage (to the right of thee image of firefighters in Sichuan).
Gap reassured Chinese authorities that the T-shirts had been recalled and destroyed.
Last month,
customs officials in the port city of Qingdao discovered close to 29,000 poster maps
bound for export that showed Taiwan as a separate country. They were confiscated and destroyed, and the case upheld as an important caution to printers and manufacturers working in China to be absolutely clear about their obligations to the nation.
The Qingdao case seems to have prompted renewed warnings in Party and state-run about the danger of "problem maps." In late March, People's Daily Online posted a piece at top of its list of news stories on the homepage called "In Tracking Down 'Problem Maps,' China Must Leave Nothing." The piece indicates that "problem maps" have been identified as a priority issue in new regulations released several months back by the Ministry of Natural Resources and other government departments called "Notice on the Strengthening of Management Work on the Contract Printing and Import-Export of Maps By Businesses" (关于加强有关承印、进出口经营单位地图管理工作的通知). The People's Daily Online article mentions the Qingdao case, but also alludes to recent confiscations in Shenzhen and Zhengzhou.
Our translation of the article follows:
____________________________
In Tracking Down "Problem Maps," China Must Leave Nothing
Qin Ning (秦宁)
March 30, 2019 / People's Daily Online
On March 21, customs authorities in Qingdao issued a notice saying that Huangdao Customs, a customs point under their jurisdiction, had tracked down and seized 28,000 "problem maps" (问题地图). According to media reports, this is the largest seizure of "problem maps" in Shandong province in recent years, and the company responsible for the products in the case is a certain company from the city of Hefei in Anhui province. The "problem maps" have already been incinerated at a designated location.
This group of products were contained in 803 boxes, containing 28,908 pieces. These maps contained such problems as designated Taiwan as a country, and incorrectly rendering the China-India border, and the case is shocking, whether in terms of the numbers involved or in terms of the nature [of the offense]. These maps were fortunately discovered in a timely manner, and swiftly destroyed. If this were not the case, these "problem maps" might circulate overseas and be used and hyped by those with ulterior motives (别有用心者), directly harming the national interests and the dignity of the Chinese people, seriously threatening the comprehensive security of the nation (严重威胁国家总体安全).
"Accurate national maps are symbols of national sovereignty and territorial integrity," [
said a division of the State Bureau of Surveying and Mapping in 2010
]. It is no small matter if materials printed for overseas [clients] and imported or exported are found to contain "problem maps." Starting from January 1, 2016, our nation made clear stipulations in its
Regulations on Map Management
  (地图管理条例) that map-related work must abide by the protection of national sovereignty, must preserve the security of geographic information, and must convenience the lives of the people. Content cannot be shown on maps that damages national unity, sovereignty and territorial integrity. No matter whether this means showing Taiwan as a separate country, or incorrectly showing the border between China and India, in both cases this violates the regulations, and this cannot be tolerated.
There have been a number of incidents of "problem maps" in recent years. Before the case of the "problem maps" requiring incineration in Qingdao, customs authorities in Shenzhen issued a notice saying that they had exposed a case of smuggling of "problem maps," and "the maps in violation of China's national sovereignty and territorial integrity" were said to number more than 300,000 in that case. In January this year, customs authorities in Zhengzhou issued a notice saying that around 20,000 "problem maps" disguised as "tourism notices" (旅游海报) had been [confiscated] bound for Germany. These are cases that have been reported  in the media. How many other cases are there? How many have gone undetected? And we must ask: why does this problem persist despite prohibitions against "problem maps"?
It is precisely because of the constant appearance of "problem maps" that a number of months ago the Ministry of Natural Resources, General Administration of Press and Publications, the General Administration of Customs and the National Office Against Pornography and Illegal Publication jointly issued its "Notice on the Strengthening of Management Work on the Contract Printing and Import-Export of Maps By Businesses" (关于加强有关承印、进出口经营单位地图管理工作的通知), which clearly stipulated: "Various business engaging in contract printing and import-export must strictly abide by the 'Regulation on Map Management,' the 'Regulations on Publishing Management' the 'Regulations on Management of the Printing Industry', the 'Measures of the Customs of the People's Republic of China for the Supervision and Administration of Processing Trade Goods' and other laws and regulations, carrying out map-related business activities in a lawful manner.
There is no shortage of laws and regulations to prevent "problem maps," nor is there a shortage of punitive measures that can be taken. But certain law-violating companies ignore these, and fundamentally fail to recognize that the contract printing of maps is a very strict and very serious matter, about which we cannot be careless, cannot be negligent and cannot show tolerance.
Taking on the [business of] printing "problem maps" is actually a lack of simple understanding of right and wrong, and a lack of knowledge of sovereignty [issues]. As a company that takes on the business of map printing, they must know that no company or individual is allowed to print, display, publish, sell, import or export maps that fail to abide by relevant national standards and regulations. Regardless of whether it is intentional or unintentional, the appearance of "problem maps" is an abandonment of legal justice, an abandonment of the righteousness of our people, and does harm to social righteousness.
Because of this, contracting for "problem maps," particularly contracting for problem orders from overseas, must be subject to the necessary punishments under the law.
General Secretary Xi Jinping has emphasized that we must resolutely make national sovereignty and security the first priority, implementing a complete national sovereignty view. China cannot be diminished! Preserving national sovereignty, security and interests is the responsibility of all citizens, and relevant departments must,  taking the control of "problem maps" as an entry point, raise the sovereignty consciousness, territorial land and seas consciousness and sense of responsibility in protecting the homeland of all people in our nation. Aside from this, we must strengthen our efforts to hold those responsible for concocting "problem maps" to account under the law, creating mechanisms of lasting effectiveness — strengthening the regular oversight of imported and exported map materials even as the healthy and rapid development of map contract printing companies is ensured.