For generations in China, the status of self-effacing soldier Lei Feng as the pre-eminent model of the ideal citizen has seemed unassailable. The myth of Lei Feng has been dusted off and recycled periodically over the decades, the last peak coming in 2013 to mark fifty years since Mao Zedong's formal launch of the "Learn from Comrade Lei Feng" campaign — which came in 1963 with the widespread publication of the hero's greatly embellished diary.
The tales and imagery surrounding this hero of the people, with overwrought messages of self-sacrifice, seem absurdly theatrical today. Lei Feng weeps as he resolves to donate his mooncakes during Autumn Festival to a hospital where those injured in the struggle to build a socialist society are recuperating. We are told how, with devoted hands-on study, he teaches himself how best to throw a hand grenade — without any apparent recognition on the part of myth-makers or military commanders of the total folly this involves. He takes smiling joy in basic acts like shoveling manure and darning his own socks.
The entire Lei Feng story is understandably beset with controversy. Some question the authenticity of his freak death in 1962 (he was reportedly crushed by a falling telephone pole). Others wonder whether he ever actually died at all, or indeed whether he actually lived. The Chinese Communist Party has remained coy about the obvious inconsistencies. Who can explain the odd fact that Lei Feng's "anonymous good deeds" were scrupulously photographed at a time in China when photography was rare and expensive.
Facts aside, Lei Feng's star will probably continue to sparkle in the cosmos of Chinese political mythology. But another star has lately been rising.
Earlier this month, Xi Jinping issued "important comments," or zhongyao zhishi (重要指示), declaring that Huang Wenxiu (黄文秀), a young village leader in rural Guangxi who died in a flash flood on June 16, had been designated a "national outstanding CCP member" (全国优秀共产党员) by the Central Committee of the Chinese Communist Party — a figure to be celebrated as an exemplar for China's younger generation.
Like Lei Feng before her, Huang Wenxiu represents the loftiest goal of life: sacrifice for the Chinese Communist Party. After earning her graduate degree in Beijing, said Xi, Huang had "given up work opportunities in the big city and resolved to return to her hometown, joining the front lines of the attack against poverty, sacrificing herself, dedicating her beautiful youth to the original mission of the Chinese Communist Party, composing a spring song of youth for the New Era."
Xi portrayed Huang as a model and martyr whose actions point the way for a new generation of Chinese faithfully serving the Party:
The masses of Party members and cadres, and young comrades, must take comrade Huang Wenxiu as a model, never forgetting our original aspiration and holding to our mission (不忘初心、牢记使命). [They must] dare to take responsibility and to dedicate themselves, making even greater achievements on the Long March of the New Era (新时代的长征路上).
The story was carried on page one of the People's Daily, in a bold headline right below the masthead, a sign of the great importance being afforded to Huang Wenxiu as a political role model for China's youth.
This month's announcement marked the high point of Huang Wenxiu's official veneration as a communist hero, and the complete obliteration of her real humanity through the mega-narrative of Xi Jinping's supremacy. We are told that "comrade Huang Wenxiu is an excellent youth representative who matured under the educational instruction of Xi Jinping Thought on Socialism with Chinese Characteristics for the New Era." We are told that "after she began serving as first secretary in a poor village she conscientiously used Xi Jinping Thought on Socialism with Chinese Characteristics for the New Era to guide her practice."
We can picture her in exactly the same light as Lei Feng, who read Mao Zedong's collected works in bed by flashlight. (Though, tellingly, in the fatuous propaganda photograph of this scene, Lei Feng's flashlight was off and the lights were on.)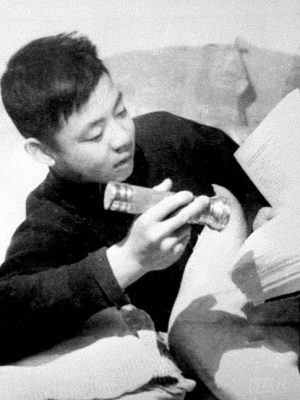 The inimitable Lei Feng reads Mao Zedong's Collected Works in bed, the lights on and his flashlight off.
When the story of Huang Wenxiu's unfortunate death was first reported on June 19 by the official China News Service, the details were tragic and human, but not yet vested with the sense of sacrifice and heroism that was soon to dominate.
China News Service, Baise / June 19 / reporter Lin Hao (林浩) — The reporter confirmed from the Propaganda Department of Lingyun County Committee of Baise City, Guangxi, that fingerprint comparison shows that the body of Huang Wenxiu, the first secretary of poverty alleviation in Leye County, who was missing in the county's major natural disaster, has been located, and is confirmed to have been killed.
Huang Wenxiu, who was born in Baise in 1989, had a master's degree from Beijing Normal University . . . . and after graduating in 2016 was directed to Guangxi for work, being employed at the Propaganda Department of Baise, and serving as first secretary of Baini Village in Leye County's Xinhua Township. On the night of June 16, she was lost when a flash flood swept away the vehicle in which she was returning to Leye from Baise.
According to Huang Wenxiu's classmates, she was generally looking after her father who has late-stage cancer. Facing the pressures of work, family and life, she always bore a smile, remaining optimistic, cheerful and positive.
The final paragraph of the news story dealt in a factual manner with the flood that had struck on June 16 and 17, and reported that "the authorities are continuing to search for the missing."
A subsequent account from China News Service offered further details, including an account from a local transport officer, Xi Daohuai (席道怀), who said he and his fellow officers out in the storm had come across Huang Wenxiu near a section of road that had become flooded. She approached the men for help and they invited her into their vehicle to avoid the rain. Xi offered to drive Huang's vehicle ahead through the area of deep water as the other vehicle followed. "Who could've guessed the water would come so fast," he said. "The other vehicle was right behind me, but there was no way for them to escape."
On June 21, the Beijing Youth Daily (北京青年报), reported in greater detail about events on June 16, noting that Huang Wenxiu had shared video of the storm on social media prior to the tragedy, and that she had been chatting with friends through WeChat. "One vehicle has already been swept away," she reportedly posted. "I don't understand what I should do."
The narrative of sacrifice was just beginning to take shape at this time. The page 10 story included a photograph of a smiling Huang Wenxiu bearing a basket filled with fruit up a hillside with other villagers. In a shamelessly sexist headline meant to endear readers, she was referred to as a "female doll of poverty alleviation" (扶贫女娃娃).
Read this story and you can feel the sense of loss and grief distilling into the official discourse of duty and sacrifice. "As first secretary, Huang Wenxiu's work received the approval of her comrades on the front lines of poverty alleviation, " the report read. "Following the grievous news, everyone sank into grief, but they were also boosted by Huang Wenxiu's work spirit, not forgetting the mission of the village in the battle against poverty, and to continue to move forward."
Not forgetting. 不忘. The mission. 使命.
By this point, one can almost imagine the light bulb flickering to life over the heads of propaganda officials from Guangxi to Beijing. Xi Jinping's phrase about "not forgetting our original aspiration and keeping firmly to our mission" (不忘初心, 牢记使命) had already become a centerpiece in propaganda ahead of the 70th anniversary of the People's Republic of China. Xi spoke repeatedly about the need for sacrifice and "struggle."
Also on June 21, Xinhua News Agency reported that the All-China Women's Federation, an official women's organization founded in 1957, had decided to honor Huang Wenxiu with a national "Bearer of the Red Flag" medal (全国三八红旗手), a distinction awarded to women deemed to have made outstanding contributions to the socialist cause.
The interest in Huang Wenxiu intensified. The Beijing News ran a special report on Huang's "last four days" prior to her untimely death.
Xinhua News Agency wrote a commentary called "Composing a Song of Youth for the New Era" (谱写新时代的青春之歌), foreshadowing Xi's language this month. Huang Wenxiu's youthful dream, it said in syrupy sing-song language, was "written in the mud, and each time she visited the home of a poor villager, she wrote a record in her diary of poverty alleviation."
Photos of the diary were already circulating in state media reports, along with others of Huang Wenxiu visiting villagers, shoveling leaves, visiting school classrooms.
The last line of Xinhua's "Song of Youth," directly invoking Xi Jinping's propaganda phrase about "original aspirations," presaged the flood to come, and the full apotheosis of Huang Wenxiu: "Youth is used to struggle, and Huang Wenxiu used her short life to act on the 'original aspiration' and 'mission" of the Chinese Communist Party, writing a Song of Youth for the New Era."
Finally, on July 1, the Central Propaganda Department officially designated Huang Wenxiu as a "Model of the Era" (时代楷模) in a ceremony on national television, bringing her father and sister out on stage. The die was cast. The final elevation would come in the midst of October celebrations of the PRC's anniversary, as the Central Committee formalized Huang's status as a "national outstanding CCP member."
Huang Wenxiu's father, Huang Zhongjie (黄忠杰) and sister, Huang Aijuan (middle) are brought on stage to accept Huang Wenxiu's "Model of the Era" award.
The emergence of the myth of Huang Wenxiu offers a fascinating modern-day glimpse into the process of manufacturing political mythology in China — a process not greatly changed from the days of Lei Feng.
We may bemoan how little China seems to have changed in spite of four decades of reform and opening, how "authoritarian adaptation" has hit a wall. But the fact is that much of China's recalcitrance is a more recent product of Xi Jinping's so-called "New Era" — a deepening of authoritarian trends that were already nascent in the second half of the Hu Jintao era, at a time when there was a great deal more questioning of political idols and ideals than we can find in Chinese media and intellectual life today.
Today, public intellectuals like Han Han and Kai-fu Lee, and a universe of celebrity "Big Vs" who could once turn the attention of mass audiences to more substantive social and political issues, have largely been silenced on China's social media. The voices of China's would-be role models are more subdued now than they have been at any point in the past two decades.
Only one voice matters, and the idol that the very human Huang Wenxiu has become is little more than a conduit for that voice. We can almost certainly anticipate the publication in full of her diary — "Every day is arduous, and yet joyous!" — suitably embellished to lend flesh-and-blood power to the immortal role of the Party.